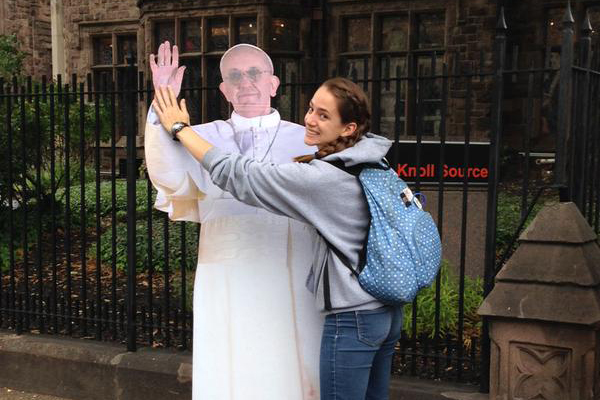 Covering the pope
UD student journalists report from Philadelphia on visit by Pope Francis
1:13 p.m., Oct. 14, 2015--Pope Francis' recent visit to Philadelphia caused major traffic issues for residents, daily commuters and those seeking to attend the pontiff's public events, but none of that kept a group of 21 University of Delaware journalism students away.
As the city and the region continue to assess the impact of the papal visit — and the public response to it — students in ENGL308, "Reporter's Practicum," have been reflecting on their own coverage of the events that drew worldwide attention.
From graduates, faculty
As it neared time for the processional to open the University of Delaware Commencement ceremonies, graduating students and faculty members shared their feelings about what the event means to them.
Doctoral hooding
It was a day of triumph, cheers and collective relief as more than 160 students from 21 nations participated in the University of Delaware's Doctoral Hooding Convocation held Friday morning on The Green.
The UD students made their way to Philadelphia on Saturday and Sunday, Sept. 26-27, for events including an address by the pope at Independence Mall and an outdoor Mass he celebrated to close the World Festival of Families. After months of logistical planning by Dawn Fallik, assistant professor of English, the students traveled by bus and train, some leaving Delaware as early as 3 a.m.
In addition to the public papal events, the student journalists also reported on a variety of related stories, from pilgrims who traveled across the country and the world for a glimpse of Francis to a behind-the-scenes look at how SEPTA, Philadelphia's transit system, handled the influx of visitors.
Working in pairs, or occasionally alone, the students filed stories and videos that were picked up by Philadelphia NPR affiliate WHYY and the Wilmington News Journal.  They tweeted throughout the weekend at #udelpope, and Fallik posted some of their work on this Storify site. The students later created their own Storify sites as a course requirement.
Junior English major Madison Goebel was perhaps the only reporter from any organization to cover the SEPTA operations on Sunday of the papal weekend. 
"She probably had the hardest assignment, covering SEPTA's control room as a million pilgrims came into the city to see the papal Mass," Fallik said. "It was an intense place, and she did a great job."
Goebel described her day as "crazy," learning how SEPTA manages trains on the busiest of all days, when even the general manager told her he had never seen anything like it before. 
"I felt like a real reporter," Goebel said. "I'm more confident now in my interview and navigational ability."
Raquel Morris and Brianna Ciocca traveled to Philadelphia with a group from Delaware's Resurrection Parish Catholic Church but ended up on their own in the city, separated from the parishioners. Morris said they needed to find a new angle fast and began talking to others in the crowds and reporting on those stories.
"I guess that just a part of being a journalist," Morris said. 
The highlight of their day was meeting The Daily Show correspondent Hasan Minhaj. "He was really nice and even interviewed [us] for a bit on his show," said Morris, who turned the tables and also interviewed Minhaj on video.
"It was a super long day for everyone, but I hope they had a great experience and got a real feel for what it's like being a journalist on the ground," Fallik said. "I'm hoping that the students gained a lot of self-confidence and will use their work to apply for internships and jobs."
She particularly thanked John Ernest, professor and chair of the Department of English, for financial help ("and a little emotional support") as the group found ways to obtain everything from subway tokens to special papal weekend SEPTA passes to seats on buses operated by church groups.
Article by Ann Manser and Juwan Montalvo