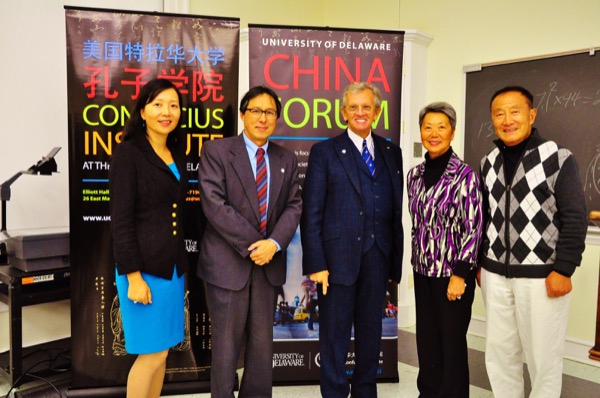 Oct. 5: China Town Hall
Confucius Institute to host nationwide webcast on US-China relationship
3:08 p.m., Oct. 2, 2015--The Confucius Institute at the University of Delaware will be one of more than 70 universities and organizations nationwide to host the ninth annual China Town Hall, scheduled Monday, Oct. 5. 
This year's event, titled "Local Connections, National Reflections," will focus on the complex U.S.-China relationship and the growing role of Chinese investment in the United States.
Fulbright awards
Three University of Delaware students and an alumna have received word this spring that they will travel abroad as part of the newest class of Fulbright Student Program award winners.
Peace Corps plans
Two University of Delaware students, John McCarron and Bridgette Spritz, have been selected as Peace Corps volunteers and will serve in Ghana and Rwanda.
The nationwide webcast will feature former treasury secretary Robert Rubin, as well as Daniel Rosen, founding partner of the Rhodium Group, and Sheldon Day, mayor of Thomasville, Alabama.
Prior to the start of the webcast, a local keynote will be given by Dennis O'Brien, president and CEO of InfoVest Inc., chief adviser to PRC Macro Inc. and a leading expert on China's economy.  Before beginning his role at InfoVest, O'Brien was president and CEO of China Monitor Inc. 
Audience members will have the opportunity to participate in a national question-and-answer session by engaging on Twitter using the hashtag #CTH15.
UD's local keynote and webcast showing will take place Monday, Oct. 5, from 6-8 p.m. in Room 205 Gore Hall. The event is free and open to the public.  
For those who cannot attend in person, the nationwide keynote can be viewed live online.  
For more information on the China Town Hall, visit the Confucius Institute website, follow @UDGlobal and @UDConfucius on Twitter, or email confucius@udel.edu.  
This event is presented by the National Committee on United States-China Relations and locally sponsored by the Confucius Institute, the Center for Global and Area Studies and the Institute for Global Studies.  
About the Confucius Institute
The Confucius Institute at the University of Delaware, a partner with Hanban/Confucius Institute Headquarters and Xiamen University, strives to promote Chinese language and culture throughout the University community and general public.
In order to facilitate cross-cultural understanding, promote international educational opportunities, and improve academic collaboration in the Delmarva region, the Confucius Institute initiates and organizes a wide array of language and cultural activities, sponsors academic and scholarly exchange programs, and provides information and consultative services in China's education, culture and business.
Article by Nikki Laws