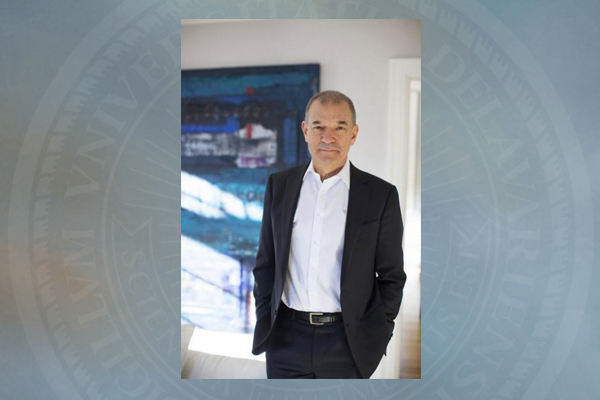 Nov. 12: 'Intolerable Ideas'
Celebrated scholar to speak about ancient manuscript that changed history
8:28 a.m., Oct. 22, 2015--Noted scholar Stephen Greenblatt, author of the Pulitzer Prize-winning The Swerve, about an ancient book whose discovery fueled the Renaissance and altered the course of history, will speak from 7:30-8:30 p.m. Thursday, Nov. 12, in Mitchell Hall on the University of Delaware's Newark campus.
The lecture, "Lucretius and the Toleration of Intolerable Ideas," is free and open to the public. A reception will follow the talk.
June 5: Blue Hen 5K
University of Delaware graduates planning to attend Alumni Weekend are encouraged to register for the annual Blue Hen 5K walk and run, which will be held Sunday morning, June 5.
June 6-9: Food and culture series
The 20th annual June Lecture Series at the Osher Lifelong Learning Institute at UD in Wilmington will be held June 6-9. Titled 'June a la Carte,' this year's program focuses on great political documents, feminism, world politics and a Newark cuisine sampler.
One of the world's most celebrated scholars, Greenblatt is John Cogan University Professor of the Humanities at Harvard University. His interests include Shakespeare, early modern literature and culture, literature of travel and exploration, religions and literature, literature and anthropology, and literary and cultural theory.
His book The Swerve: How the World Became Modern was awarded the 2012 Pulitzer Prize for Nonfiction, the 2011 National Book Award for Nonfiction and the 2011 James Russell Lowell Prize from the Modern Language Association.
In his lecture at UD, Greenblatt will discuss central ideas from Lucretius' revolutionary poem On the Nature of the Universe, an ancient Roman philosophical epic written more than 2,000 years ago. About 600 years ago, the last existing manuscript of that poem was discovered on a library shelf by a man who ordered it copied.
Lucretius' poem contained ideas that were seen as dangerous and repugnant to the Christian culture of 15th and 16th century Europe: that the universe functioned without the aid of gods, that religious fear was damaging to human life, and that matter was made up of very small particles in eternal motion, colliding and swerving in new directions.
But the copying and translation of the manuscript allowed Lucretius' ideas somehow to survive the period's censorship and repression and go on to shape the modern world and inspire artists, writers and thinkers, including Galileo, Freud, Einstein, Shakespeare and Thomas Jefferson. 
Greenblatt's lecture will address how this happened, and how it is that we ever embrace concepts that are initially alien or offensive to us. 
The talk is the Department of Languages, Literatures and Cultures' Distinguished Lecture for fall 2015. The event is co-sponsored by The Office of the Provost; the Department of Philosophy, The Class of 1955 Ethics Endowment Fund; the College of Arts and Sciences; the University of Delaware Library; the Center for Material Culture Studies; and the Department of English.
Photo by Stephanie Mitchell, Harvard staff photographer