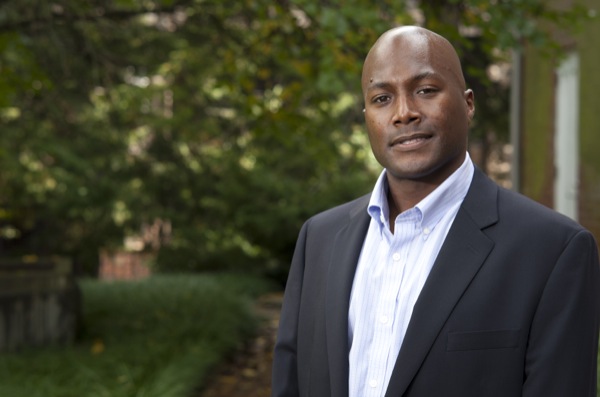 Engineering honors
Epps receives American Physical Society's 2016 John H. Dillon Medal
4:39 p.m., Oct. 12, 2015--Thomas H. Epps, III, the Thomas and Kipp Gutshall Associate Professor of Chemical and Biomolecular Engineering at the University of Delaware, has been awarded the American Physical Society's 2016 John H. Dillon Medal for "significant advances in the control, characterization and understanding of polymer nanoscale structure and energetics." 
The medal recognizes outstanding research accomplishments by young polymer physicists who have demonstrated exceptional research promise early in their careers.
National Medal of Science
President Barack Obama recently presented the National Medal of Science to University of Delaware alumnus Rakesh Jain.
Warren Award
Rosalind Johnson, assistant dean for student success in the NUCLEUS Program in UD's College of Arts and Sciences, was presented the John Warren Excellence in Leadership and Service Award during a May 26 ceremony.
"Thomas has successfully employed a variety of approaches to precisely control the nanoscale structure of self-assembling block co-polymers," says Darrin Pochan, chair of the Department of Materials Science and Engineering at UD. "His work in this area has the potential to address society's most pressing problems in energy, health and the environment."
Pochan, who nominated Epps for the award, was the 2007 recipient of the Dillon Medal. The medal was established in 1983 by the American Physical Society and the Division of Polymer Physics. Beginning in 1997, sponsorship of the medal was assumed by Elsevier, publishers of the journal Polymer.
Epps earned bachelor's and master's degrees from the Massachusetts Institute of Technology and a doctoral degree from the University of Minnesota. He then served as a National Research Council Postdoctoral Fellow in the Polymers Division at the National Institute of Standards and Technology in Gaithersburg, Maryland, before joining the UD faculty in 2006 with joint appointments in chemical and biomolecular engineering and materials science and engineering. 
He completed a sabbatical year at MIT as the Martin Luther King, Jr. Visiting Professor of Chemistry in 2012-2013, and he was awarded the Owens Corning Early Career Award by the American Institute of Chemical Engineers earlier this year.
Article by Diane Kukich