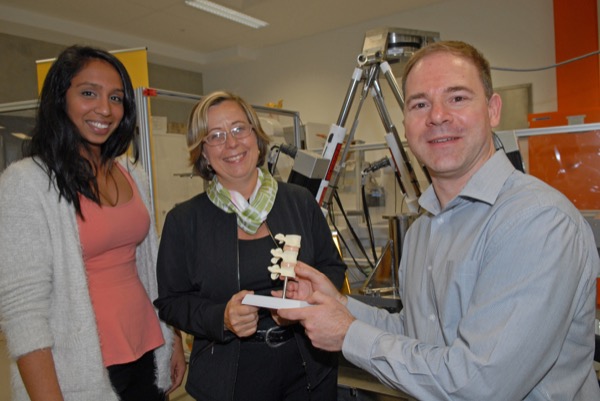 Spine health
International collaboration lays foundation for therapies to improve musculoskeletal function
9:46 a.m., Nov. 16, 2015--Dawn Elliott went halfway across the world to find a research collaborator, but it was well worth the trip.
Elliott, professor and chair of biomedical engineering at the University of Delaware, uses mathematical models and mechanical testing to better understand the function and behavior of soft tissues such as intervertebral discs, which support and distribute loads and permit motions of the spine. 
Chronic wounds
UD's Millicent Sullivan and Kristi Kiick have received a $1.4 million grant from the National Institutes of Health for research that could provide a new approach to the treatment of chronic wounds.
Prof. Heck's legacy
The American Chemical Society is highlighting the legacy of the late Nobel laureate Richard Heck, the Willis F. Harrington Professor Emeritus of Chemistry at the University of Delaware with a digital tribute on its publications website.
More than 10,000 miles away, in Adelaide, Australia, John Costi is also working to understand the mechanisms of spine disc degeneration and tissue injury in the Biomechanics and Implants Laboratory at Flinders University.
Costi's experimental capabilities are a perfect complement to Elliott's predictive models, and the two have been collaborating since 2013.
"Aging, growth and injury are common causes for loss of spinal function, which places a heavy burden on health services and causes a tremendous amount of human suffering," Elliott says. "John's team and my group are working together to develop long-term strategic research priorities to address this global problem, which costs tens of billions of dollars every year."
Elliott spent the summer of 2015 at the Medical Device Research Institute at Tonsley under a Flinders Visiting International Research Fellowship. There, she had access to a novel hexapod robot that can subject discs to realistic loading scenarios.
"The robot's accurate mechanical loading capabilities are combined with tissue testing, mathematical modeling, and multi-modal imaging to come up with next-generation knowledge about managing spinal health," Costi says.
Dhara Amin, who earned her bachelor's degree in mechanical engineering at UD in 2013, received a grant from the Whitaker International Program to complete a one-year research project in biomedical engineering at Flinders, and she is now a master's candidate there. 
Elliott hopes that Amin's ties to both institutions can continue through a joint Ph.D. program currently in the planning stage.
According to Kim Bothi, associate director for science and engineering at UD's Institute for Global Studies, a "cotutelle" between Flinders and UD is being explored, with the first step being to develop a memorandum of understanding. 
"A cotutelle is essentially co-mentorship or joint guardianship — in this case, two international universities sharing the guardianship of a student's doctoral studies," Bothi says. "This doctoral program would be the first of its kind in our biomedical engineering department, paving the way for faculty co-advising and additional research partnerships between UD and Flinders."
Elliott believes that her successful partnership with Flinders will lead to breakthroughs in developing and testing therapies for the spine.
"We're making progress in learning how function is lost in the discs in our spines," she says. "This knowledge will provide the foundation for the development of improved implants and tissue engineering repair treatments to improve musculoskeletal function."
Article by Diane Kukich