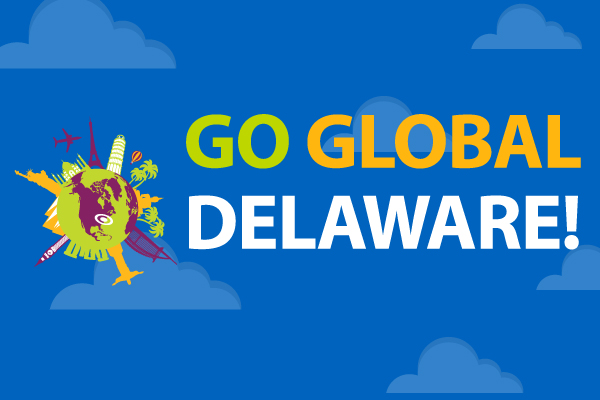 Go global
UD community has access to a world of opportunities throughout November
10:20 a.m., Nov. 2, 2015--Art, music, films, lectures and more will be showcased on the University of Delaware campus this November, as UD celebrates Global Month.
Coordinated by the Institute for Global Studies (IGS), Global Month is a cross-campus collaborative effort to highlight and celebrate global engagement opportunities for all members of the UD community. 
Fulbright awards
Three University of Delaware students and an alumna have received word this spring that they will travel abroad as part of the newest class of Fulbright Student Program award winners.
Peace Corps plans
Two University of Delaware students, John McCarron and Bridgette Spritz, have been selected as Peace Corps volunteers and will serve in Ghana and Rwanda.
The month-long celebration expands upon and aligns with the U.S. Department of State's International Education Week (IEW), which will be marked from Nov. 16-20.
IEW is a joint initiative for the U.S. Department of State and the U.S. Department of Education to promote programs that prepare Americans for a global environment and provide an opportunity to celebrate the benefits of international education and exchange worldwide.
Global Month capitalizes on a number of internationally-focused programs and engagement opportunities offered by departments across campus. For example, the weekly International Coffee Hour, sponsored by the Office for International Students and Scholars, is held throughout the academic year on Fridays from 4-6 p.m. In addition, special programs have been specifically designed to increase community awareness and engagement in all things global.
The month begins with the Department of English's International Film Series showing of A Girl Walks Home Night, continues with Fulbright information sessions on Nov. 2 and 3 (3:30 p.m. in 116 Brown Lab), and continues on Nov. 4 with a lecture sponsored by the Department of Languages, Literatures and Cultures on "The Crisis of Syrian Refugees," and a discussion on Nov. 5 by Colin D. Miller, director of global arts at UD, on the "ReSoundings" exhibition in the Mechanical Hall Gallery. 
Week one wraps the evening of Nov. 5 as armchair travelers will be inspired during the showing of the movie UP at 7 p.m. in the Trabant University CenterTheatre. International House residents and other interested students are encouraged to build their own gingerbread houses and bring them to Trabant Theatre by 6 p.m.  The winning design will be announced at movie's end.  
Events held during the second week of November include the Department of Music's Tiger Lily Music Faculty Recital on Nov. 9, a workshop on "Maximizing your Study Abroad: Strategies for Cultural Learning" on Nov. 11 and 12, as well as lectures focusing on Chinese Women and Poetry (Nov. 11) and the impact of Lucretius' poem on Christian culture of 15th and 16th century Europe (Nov. 12). 
On the evening of Nov. 12, UD's 2015 International Artist in Residence, Emad Hemede, will present the "Sights and Sounds of Syria" in collaboration with Jason Hamacher, who recorded the oldest chant traditions of the Syrian Orthodox Church. The week culminates with the Center for Career Services' Multi-ethnic Career Development Conference on Nov. 14.
International Education Week (IEW)
Coinciding with IEW, UD will offer a series of events each day of the week from Nov. 16-20.
The Festival of Nations, held on Monday, Nov. 16, at 5 p.m. in the Perkins Student Center, will include an International Talent and Fashion Show. Sponsored by the English Language Institute, the evening also includes a Culture Fair, where members of the UD community are invited to visit exhibition tables representing a multitude of nations and cultures. 
On Tuesday, Nov. 17, the University will be recognized for its global efforts during the 2015 NAFSA Senator Paul Simon Campus Internationalization Presidential Panel in Washington, D.C. Members of the campus community can watch the live webcast at 4 p.m.
That same evening, IGS will host "I Hate Travel Blogs: Study Abroad Storytelling 101" at 5 p.m. in 132 Alison Hall. Students living on campus are also encouraged to check with their RAs on details of the Residence Life and Housing (RLH) Faculty Series to be held at 7 p.m.
Also co-sponsored by RLH is the International Bazaar, on Wednesday, Nov. 18, at 7 p.m. in Kent Dining Hall. Those who attend can taste international dishes, play games and create crafts from cultures around the world. Dishes will be provided by the Confucius Institute, the English Language Institute, and Residence Life and Housing. Those interested in providing a dish for the event can contact Jason Kong, RLH residence hall coordinator.
The second-annual Fulbright reception, celebrating the community of more than 150 UD faculty, staff and alumni who have received Fulbright awards, will take place on Thursday, Nov. 19, at 5 p.m. at the Wright House (44 Kent Way). 
Hosted by UD's Fulbright Foreign students and scholars, the event will showcase each of these students' home countries. All Fulbright Society Members, and those interested in applying for the Fulbright Program are encouraged to attend. 
IEW concludes on Friday, Nov. 20, from 4 - 6 p.m. with the International Student Essay Contest Reception, co-sponsored by OISS and the Division of Student Life. Members of the community are invited to attend the special edition of the weekly OISS International Coffee Hour to hear the winning essays and meet the talented writers. Read more about the International Student Essay Contest.
For a full list of events throughout the month, visit the Global Month schedule. 
Globalize profiles
During Global Month, students are encouraged to change their profile picture to a photo showcasing their culture or international travels. Also be sure to follow along on social media by following the @UDGlobal Instagram and Twitter accounts, and including #UDGlobalMonth in posts. The UD community can participate in the global conversation by including #IEW2015 in posts. 
About the Institute for Global Studies
The Institute for Global Studies was created in 2009 to enhance the international dimensions of teaching, research and outreach at the University of Delaware. IGS provides leadership and support for programs and experiences that contribute to the education of informed, skilled, open-minded citizens of the world.
IGS awards scholarships and grants to faculty and students for a number of global opportunities, and administers internationally-recognized programs such as the UD Fulbright Initiative, Middle East Partnership Initiative (MEPI) Student Leaders Institute,Mandela Washington Fellowship Program for Young African Leaders, and most recently the Study of the United States Institutes for Student Leaders (SUSI-WL) program. 
IGS sponsors such signature events as Global Month each fall and country-specific celebrations each spring.
IGS collaborates with other global partners on campus, including the Office for International Students and Scholars, the Confucius Institute and the Center for Global and Area Studies. In addition, IGS partners with Enrollment Management to coordinate theUD World Scholars Program.
Article by Jessica Franzetti