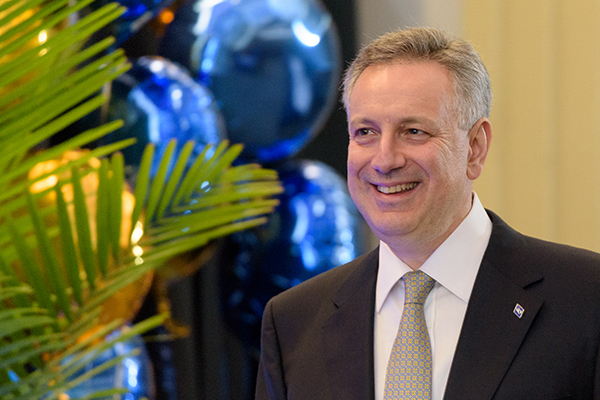 Accomplished leader
Colleagues praise Dennis Assanis' appointment as UD's next president
1:19 p.m., Nov. 18, 2015--The news of Dennis Assanis' appointment as the next president of the University of Delaware has been well-received by many individuals here and across the country:
Here is a sampling of comments.
From graduates, faculty
As it neared time for the processional to open the University of Delaware Commencement ceremonies, graduating students and faculty members shared their feelings about what the event means to them.
Doctoral hooding
It was a day of triumph, cheers and collective relief as more than 160 students from 21 nations participated in the University of Delaware's Doctoral Hooding Convocation held Friday morning on The Green.
Delaware Gov. Jack Markell: "Congratulations to Dr. Assanis on becoming the next president of the University of Delaware. Dr. Assanis understands UD's vital role in delivering a world-class education that's accessible and affordable, especially for Delawareans. His outstanding work at Stony Brook University and the University of Michigan demonstrates his commitment to research, innovation and economic development. The Board of Trustees has made an excellent choice for UD and the state. I look forward to working with Dr. Assanis. Carla and I are eager to get to know him and his wife, Eleni, and make them feel welcome in the First State."
Jim Duderstadt, president emeritus, University of Michigan: "Let me congratulate the University of Delaware on its appointment of Dennis Assanis, one of this nation's leading scholars, teachers and academic leaders as its next president. Dr. Assanis will bring both considerable experience in academic leadership at leading research universities (the University of Michigan and SUNY Stony Brook) and national higher education policy (National Academies), but also a keen appreciation of the importance of the liberal arts and professions to a leading university such as UD. (He also has a strong loyalty to athletic teams that wear blue and yellow winged helmets!)"
Mary Sue Coleman, president-elect of AAU and president emerita, University of Michigan: "Dennis Assanis is an accomplished scholar, teacher, administrator and fundraiser. Most important, he is a proven leader. He believes strongly in academic collaboration and cross-cutting research. He is an exceptional choice for leading the University of Delaware."
Linda Katehi, chancellor, University of California-Davis: "Dennis' appointment is an enlightened choice for president of the University of Delaware. He has extraordinary research, teaching and leadership skills along with the integrity and temperament needed to inspire and bring people together across disciplines and backgrounds. He's the perfect choice to lead the University to new heights as its next president."
Dr. Nancy L. Zimpher, chancellor, State University of New York: "The University at Delaware trustees are to be commended on their selection of Dennis Assanis as president. As provost of Stony Brook University, Dennis oversees one of the most advanced academic portfolios in the country, ensuring its alignment not only with Stony Brook's cutting-edge research activity and teaching hospital but with the larger mission of our university system, which includes a diverse network of 64 institutions in every sector. Throughout Dennis' time at SUNY, his impeccable leadership and critical insight into the academic needs of students and faculty has been invaluable. He contributed in many ways, including playing a pivotal role in our system-wide strategic plan and the expansion of our international programs through SUNY Korea. Congratulations to Dennis – and to the University of Delaware – on his appointment."
Dr. Doon Gibbs, director of Brookhaven National Laboratory: "Dennis Assanis is a nationally recognized engineer with broad experience at universities, with industry and at national laboratories. This gives him a strong platform from which to drive the University of Delaware forward and address tomorrow's issues. Congratulations to Dennis on this exciting new role. "
Dr. Ron Townsend, executive vice president, Global Laboratory Operations, Battelle; and co-chair of board, Brookhaven Science Associates: "I have worked closely with Dennis Assanis for several years in our contractor governance role at Brookhaven National Laboratory. His insightful leadership and ability to see the value in research collaboration are simply spectacular. He makes this happen and gets remarkable results. A perfect choice to lead the University of Delaware."
Rev. Father Alex Karloutsos, public affairs officer of the Greek Orthodox Archdiocese of America; executive adviser of faith: An Endowment for Orthodoxy and Hellenism, and member of the Stony Brook Council (external governance board): "Great leadership demands great servanthood and great dedication. I know that Dr. Assanis will bring inspiring leadership and dedicated service in order to lead the students, faculty and staff of the University of Delaware, one of America's great institutions of higher education, to new and even greater heights. Dennis has a proven track record of embracing diversity and bringing people together for the common good and for the advancement of their shared goals."
Photo by Evan Krape