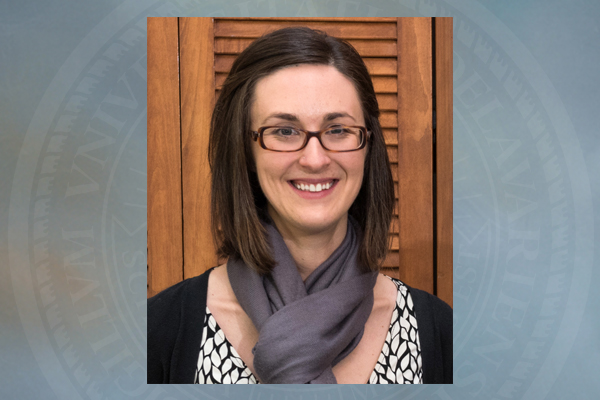 Dissertation grant
UD doctoral student receives funding for research on improving home-based child care
1:40 p.m., Nov. 4, 2015--When Alison Hooper was working as a kindergarten teacher in Wilmington, it didn't take her long to realize that a handful of her students were behind in grade-level curriculum. 
Determined to learn more about how to better prepare young children for school, she enrolled in the University of Delaware's master of science degree program and, later, doctoral program in human development and family studies.
Chronic wounds
UD's Millicent Sullivan and Kristi Kiick have received a $1.4 million grant from the National Institutes of Health for research that could provide a new approach to the treatment of chronic wounds.
Prof. Heck's legacy
The American Chemical Society is highlighting the legacy of the late Nobel laureate Richard Heck, the Willis F. Harrington Professor Emeritus of Chemistry at the University of Delaware with a digital tribute on its publications website.
Her faculty adviser, associate professor Rena Hallam, recognized her passion and suggested she apply for a grant to fund her dissertation research. 
As a result of her hard work, Hooper was awarded a two-year Child Care Research Scholars Dissertation Grant through the U.S. Department of Health and Human Services' Office of Planning, Research and Evaluation. One of only five students to receive this grant, Hooper will receive $25,000 each year toward her research.
The grant's purpose is to support doctoral students' dissertation research on child care policy issues. It will provide Hooper with the technology and materials she will need to conduct her analysis and gather the data needed to research home-based child care.
Nationwide, as many as seven million children, ranging from infants to those 5 years of age, attend a form of home-based child care. This number includes family child care providers that are regulated or licensed by the state.
Over the next two years, Hooper will be completing a mixed methods study of home-based child care, using the recent nationally representative dataset to determine the profiles of home-based providers based on their beliefs and practices. 
She will then conduct a survey of home-based providers in Delaware and compile case studies using an observational measure.
The lengthy process doesn't stop there. Hooper hopes the results will help states better tailor their programs and support to meet the needs of home-based providers. 
The project will build on existing research within the Delaware Institute for Excellence in Early Childhood, where Hooper works as a limited term researcher, and the federally funded Stars Plus Family Child Care Project. 
"I came to grad school to learn more about how to help children be better prepared to be successful in kindergarten, both academically and socially," said Hooper. "My goal with this research is to help providers build stronger relationships with the children and families they serve, thereby improving the quality of care they provide to children."
While pursuing her master's degree, which she received in 2014, and doctoral degree in human development and family studies, Hooper had the opportunity to participate in many different aspects of early childhood research projects and received a number of awards, including the Amy Rextrew Graduate Student Award, the Steele Symposium Graduate Award and the Strattner-Gregory Child Advocacy Award.
Ultimately, Hooper plans to continue to be involved in both teaching and research. For now, she is in the beginning stages of the research. This includes completing the analysis of the national data and preparing to mail a survey to home-based providers in Delaware. 
Throughout the grant period, she will share her findings through research briefs and presentations at national conferences.  
Article by Rebecca Gasperetti