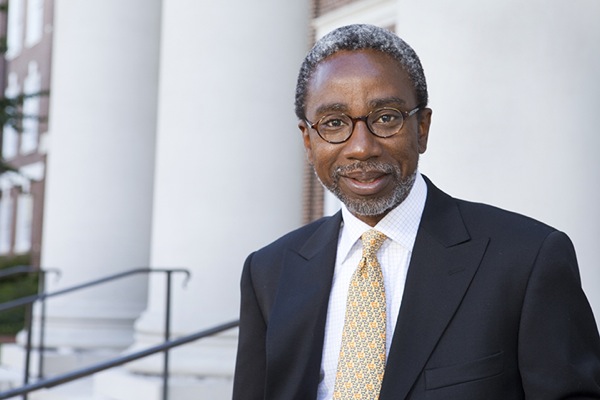 AAAS Fellow
College of Engineering's Ogunnaike recognized for advancing science
10:09 a.m., Nov. 30, 2015--The University of Delaware's Babatunde Ogunnaike has been named a fellow of the American Association for the Advancement of Science (AAAS), the world's largest general scientific society.
The association bestows the title of AAAS Fellow on members who are selected by their peers for scientifically or socially distinguished efforts to advance science or its applications. 
National Medal of Science
President Barack Obama recently presented the National Medal of Science to University of Delaware alumnus Rakesh Jain.
Warren Award
Rosalind Johnson, assistant dean for student success in the NUCLEUS Program in UD's College of Arts and Sciences, was presented the John Warren Excellence in Leadership and Service Award during a May 26 ceremony.
Ogunnaike, the William L. Friend Chair of Chemical Engineering, was recognized for his distinguished contributions to process control systems, process engineering practice, and systems engineering education. His work addresses both industrial processes and systems biology.  
The 347 members selected this year will officially receive the distinction on Feb. 13, 2016, at the AAAS Fellows Forum during the organization's annual meeting in Washington, D.C.
Ogunnaike, who is currently dean of the College of Engineering, joined the University in 2002 after spending 12 years as a researcher with DuPont.
He was elected to the National Academy of Engineering and the Nigerian Academy of Engineering in 2012 and was named a fellow of the National Academy of Inventors in 2014.
After receiving a bachelor's degree in chemical engineering from the University of Lagos in Nigeria in 1976, he earned a master's degree in statistics and a doctorate in chemical engineering from the University of Wisconsin, Madison, in 1981.
Ogunnaike is the author or editor of four books and more than 75 papers and book chapters, and his textbooks have been used to educate and train engineers in instrumentation, systems and control at more than 29 universities.
Article by Diane Kukich
Photo by Ambre Alexander Payne