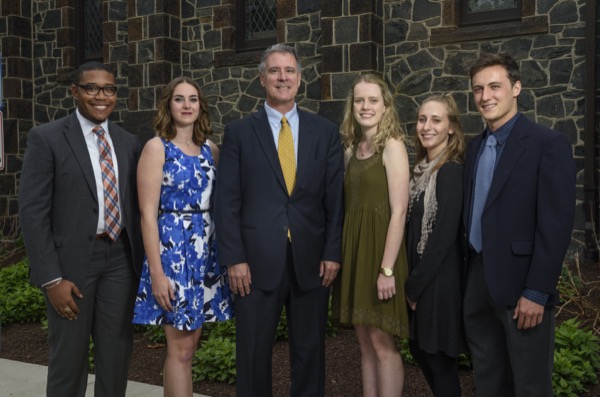 2016 Plastino Scholars
Annual dinner welcomes new participants, recognizes accomplishments of 2015 cohort
3:06 p.m., May 10, 2016--Six University of Delaware undergraduates will travel the world to pursue their passions — exploring such diverse issues as health care, incarceration and urban farms, in projects from Australia to Rwanda — as the new cohort of Plastino Scholars.
The students were welcomed to the program at this year's annual dinner, held May 4 on the University of Delaware campus. At that celebration, the program's 2015 scholars gave presentations describing their own, now-completed projects.
National Medal of Science
President Barack Obama recently presented the National Medal of Science to University of Delaware alumnus Rakesh Jain.
Warren Award
Rosalind Johnson, assistant dean for student success in the NUCLEUS Program in UD's College of Arts and Sciences, was presented the John Warren Excellence in Leadership and Service Award during a May 26 ceremony.
Both groups were joined by proud family members, faculty mentors, several alumni of the program and its benefactor, alumnus David A. Plastino.
Established in 2007 by a generous gift from Plastino, a 1978 graduate of UD's College of Arts and Sciences, the Plastino Scholars Program awards grants to undergraduates to support self-designed, off-campus projects reflecting their passion. The awards give students a chance to discover and follow their interests, with projects that might involve research, community service or any other form of personal growth and enrichment.
Plastino has said that he got the idea for the program when he helped his daughter Sarah celebrate an award she had received in college that enabled her to spend time in a Mexican village, studying cross-border immigration issues and honing her Spanish language skills.
"It was Sarah's experience that introduced me to the idea of creating a way for students to pursue a dream — something educational that they have a passion for but something they can't do in a traditional academic setting," Plastino has said.
Next year will mark the program's 10th anniversary.
In introductory remarks at the dinner, George Watson, dean of the College of Arts and Sciences, thanked Plastino on behalf of "the dozens of students whose lives you've changed through this program."
The grants, Watson said, "encourage students to use their full imaginative potential to enrich their lives and experiences."
The 2016 Plastino Scholars and the projects they plan to pursue are:
Navika Gangrade, an Honors student majoring in dietetics with a minor in psychology, will study urban farms throughout the United States in an effort to understand their nutritional impact on their communities. She hopes to bring effective programs and ideas back to Delaware.
Christopher Gunter, a criminal justice major with a minor in sociology, designed "The Missing Voices Project" as a way to understand the narratives of convicted individuals and the effects on their families. His goal is to attend law school and become a leader in the criminal justice system.
Max Holdsworth, an Honors student with a dual major in public policy and economics, will travel to England to assist in research on prevention programs operated through Great Britain's National Health Service. He will examine the perspectives of academics, healthcare professionals and consumers.
Alexis Holzmann, an Honors student majoring in international relations with minors in urban educational studies, sociology and French, will spend the summer in Australia, observing the Koonwarra Village School, an alternative primary school that practices a holistic, child-centric approach to education.
Katie Katz, an Honors nursing major, will partner with an organization in Rwanda to focus on "Oral Rehydration Solutions," a liquid mixture given to those suffering from diarrhea — the second leading cause of death in young children. She will observe current practices and help in community education efforts.
Emily Wunsch, an Honors student with a dual major in exercise science and Spanish studies and a minor in chemistry, will assist with health care outreach programs in Latino communities in the U.S. Southwest. She hopes to gain insights into developing a new program in Delaware.
The Plastino Scholars Program transforms its students' lives, Robin Morgan, professor of biological sciences and of animal and food sciences and faculty adviser for the program, said at the celebration.
"More than an award, more than an experience, the Plastino Scholars Program gives students — quite literally — the opportunity of a lifetime," she said.
Article by Ann Manser
Photo by Kathy F. Atkinson