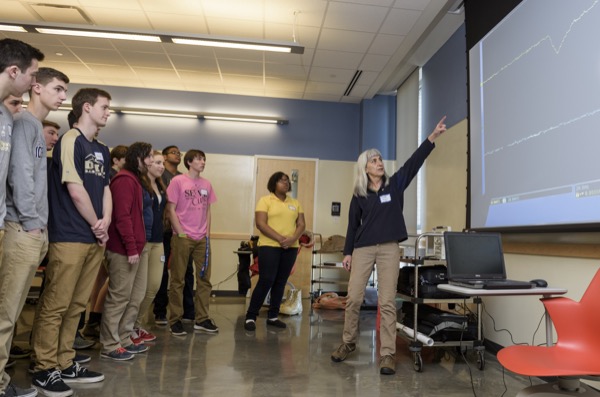 Chasing neutrinos
High school physics students get a taste of particle astrophysics
3:27 p.m., March 17, 2016--The subatomic particles called "neutrinos" are as close to under the radar as anything can be, but that doesn't keep scientists from pursuing them. They will go to the most forbidding environments to search for what is sometimes called the "Ghost Particle," because it carries crucial clues about the universe.
About 20 students from four Delaware high schools spent a day with University of Delaware researchers who are part of that quest in partnership with the IceCube South Pole Neutrino Observatory, the largest neutrino detector in the world.
From graduates, faculty
As it neared time for the processional to open the University of Delaware Commencement ceremonies, graduating students and faculty members shared their feelings about what the event means to them.
Doctoral hooding
It was a day of triumph, cheers and collective relief as more than 160 students from 21 nations participated in the University of Delaware's Doctoral Hooding Convocation held Friday morning on The Green.
The daylong event was part of the third annual IceCube Masterclass, a joint project of the University of Wisconsin, UD and other research institutions, including several in Europe. 
The experience is designed to give young scientists a glimpse into the field of neutrino astronomy and a look at some of the possibilities they might want to consider as they advance in research of their own.
In all, more than 200 students participated in similar classes this month in Germany, Belgium, Denmark, and at the University of Wisconsin and the University of Alabama.
"We're really being introduced to something we've never seen before," said Cody Barnett, a senior at the Delaware Military Academy. "This is breaking new ground – an introduction to quantum mechanics that is incredible."
At UD, students gathered in the Harker Interdisciplinary Science and Engineering Lab, where they met with Bartol Research Institute scientist Serap Tilav (for whom Antartica's "Tilav Cirque" is named), electronic instrument specialist James Roth, David Seckel, professor of physics and astronomy, postdoctoral fellow Hans Dembinski and several University students to learn about neutrinos, how they are detected at IceCube and what researchers hope to learn from them.
About neutrinos
First, a word about neutrinos. They are high-energy subatomic particles, some created by radioactive decay and some – those with the highest energy – emerging from cosmic rays that, in turn, come from some of the most violent phenomena of all time. 
Scientists don't know the ultimate origin of those phenomena, but neutrinos are fascinating because they have no electrical charge and are unfazed by magnetic fields and many other forces. They can go just about anywhere, and keep going for years and years and billions of years, scientists say.
You have never seen neutrinos, but you have encountered them innumerable times, scientists say, as they zoom unimpeded through just about everything. Trillions pass through you each second on their way to whatever lies ahead.
That property and their near-the-speed-of-light velocity makes neutrinos extremely challenging to detect, let alone study in any depth. But they hold important clues about cosmic rays, the forces that lie behind their extreme energy and the structure of the universe.
They were first detected – albeit indirectly – in 1956. But since 2010, scientists have had an extraordinary telescope with which to study those with highest energy, with the completion of the IceCube Neutrino Observatory at the South Pole, supported by the National Science Foundation.
There, thanks to more than 5,000 sensors suspended on 86 cables deep into the Antarctic ice, the path and energy of these particles can be detected as they collide with an atomic nucleus in a molecule of clear ice. Scientists can see a telltale trail of blue radiation produced in the collision and recorded by those sensors, called Digital Optical Modules (DOMs).
Masterclass studies
A DOM was in the Harker Lab classroom for students to examine during the masterclass. And samples of data collected by IceCube DOMs were available for students to explore, in the form of computer models that demonstrate the path and patterns of these tiny particles.
Roth, senior supervisor of the electronics shop for the University's Department of Physics and Astronomy, has gone to the South Pole in each of the past 14 years and has been part of many aspects of the IceCube project. 
He described the logistics of the work, including the long trip, the extreme cold weather gear necessary and the extraordinary challenge of building IceCube – which came in on time and on budget, despite the harsh conditions and difficult adjustments necessary.
Students also participated in a phone call with two researchers at the South Pole and were able to ask about conditions and activities there.
"I hope we get students more interested in physics this way," said Dembinski, who coordinated this year's event at UD and produced a significant amount of the content presented.
Jasmine Chandler, a senior at Newark High School, said she has wanted to be a scientist since fifth grade, but hasn't liked physics as much as chemistry and biology. Now, though, she is looking at astrophysics with new interest. She enjoyed the computer modeling exercise that allowed students to see how researchers track and analyze neutrinos as they pass through the ice.
Anthony Hewitt, also a senior at Newark, said he has wanted to study astrophysics since a seventh-grade unit on the planets.
Students who attended this year's masterclass at UD included juniors and seniors from Delaware Military Academy, Newark High School, Sanford School and St. Elizabeth School.
Janice Scott, a Delaware Military Academy senior, said it was fascinating to get a look something scientists are still figuring out.
"Neutrinos are this weird little particle we're still learning about," she said. "We're connecting theory to practice. Science is cool."
Cody Barnett agreed.
"It's fun to have something that confuses you," he said. "There is so much in school that we already have insight into. This is something that's brand new."
Several educators were on hand and said the experience had great value for their students.
"Often the most valuable educative experiences are not within the confines of the traditional classroom, but those encounters where students are able to expand their knowledge base through an immersive experience – seeing and doing in a concentrated setting," said Lynn Casto, head of the Upper School at Sanford School. "The IceCube Masterclass provided this type of experience for our five students who attended, and for me as well. I am appreciative of Hans Dembinki's invitation to local high schools to spend a day with the IceCube research team, learning about neutrino research at the South Pole. We, at Sanford School, look forward to continuing and strengthening this partnership between secondary and collegiate students and educators."
Sanford physics instructor Jamy Moreno seconded Casto's comments.
"The class was especially useful because students don't often have any idea what physicists actually do," she said. "The students came in without any assumptions and left feeling excited about applying physics in the real world. It opened their eyes to what a career in research could be."
Article by Beth Miller
Photo by Kathy F. Atkinson