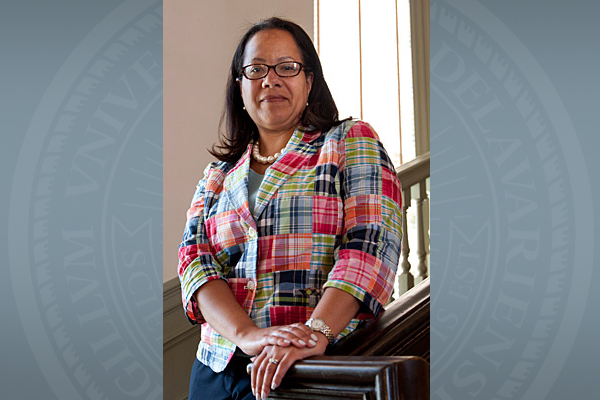 Blue and Gold Professor
Erica Armstrong Dunbar appointed to named faculty position
2:39 p.m., March 24, 2016--Erica Armstrong Dunbar, a recognized scholar whose work examines the lives of free and enslaved African American women in the early days of the United States, has been named the Blue and Gold Professor of Black American Studies and History at the University of Delaware.
Her named professorship took effect March 1.
National Medal of Science
President Barack Obama recently presented the National Medal of Science to University of Delaware alumnus Rakesh Jain.
Warren Award
Rosalind Johnson, assistant dean for student success in the NUCLEUS Program in UD's College of Arts and Sciences, was presented the John Warren Excellence in Leadership and Service Award during a May 26 ceremony.
"Your appointment to this professorship is in recognition of your achievements as a scholar and educator," UD Acting President Nancy M. Targett and Provost Domenico Grasso said in the appointment letter. "We greatly appreciate your outstanding contributions and service to the University of Delaware."
In addition to her teaching and scholarship at UD, Armstrong Dunbar is the inaugural director of the Program in African American History at the Library Company of Philadelphia, the nation's oldest library, founded by Benjamin Franklin. 
In her post at one of the most respected repositories of Early Americana, Armstrong Dunbar promotes the public humanities, mentors and advises advanced graduate students and junior scholars and raises significant funding for diversity pipeline initiatives.
A distinguished author, her much-anticipated new book, Never Caught: The President's Runaway Slave Woman, is a biographical study of Ona Judge Staines, George and Martha Washington's house slave who escaped to New Hampshire in 1796. The book is scheduled for publication by Simon and Schuster in January 2017. 
Her first book, A Fragile Freedom: African American Women and Emancipation in the Antebellum City, positioned her as a scholar of early African American women's history.
Wunyabari O. Maloba, professor and interim chair of Black American Studies and professor of history, said Armstrong Dunbar "represents the best that any department can offer for academic elevation and promotion," adding that she "is now generally considered one of the leading historians of her generation on the history of African American women, 19th century American history and Black Philadelphia."
Armstrong Dunbar has been named a distinguished lecturer by the Organization of American Historians and has received fellowships from the Ford Foundation, Mellon Foundation and Social Science Research Council. 
She also served on the editorial board for the Pennsylvania Magazine of History and Biography and currently sits on the editorial board for the Race and the Atlantic World Series with the University of Georgia Press.
Her expertise is in high demand, and she regularly participates in print, television and radio interviews. She has appeared in the documentaries Philadelphia: The Great Experiment and The Abolitionists, a PBS American Experience production.
Maloba praised Armstrong Dunbar as "an outstanding teacher and adviser." In addition to her scholarly work, he noted that she has taught numerous undergraduate and graduate courses in the departments of Black American Studies and History and has served on many graduate committees in the history department and as the primary adviser to a number of doctoral students in history.
"Her service to the Department of Black American Studies, the College [of Arts and Sciences] and the University of Delaware, the profession and the public is truly unusually extensive and varied," Maloba said.
Armstrong Dunbar received her bachelor's degree from the University of Pennsylvania and her master's and doctoral degrees from Columbia University.
Article by Ann Manser
Photo by Kathy F. Atkinson