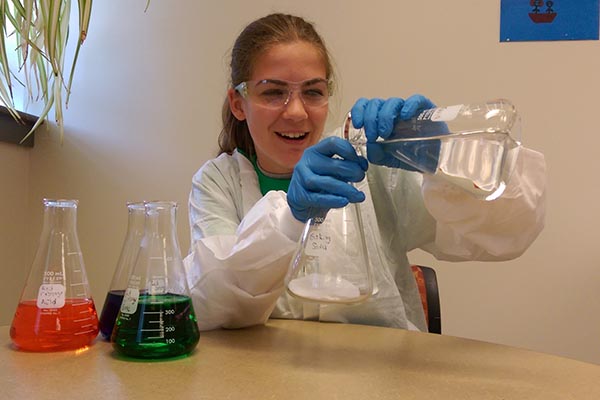 STEM leader
Delaware 4-H's Murray named recipient of science innovator award
11:49 a.m., July 10, 2015--Delaware 4-H member Colleen Murray, an incoming freshman at the University of Delaware, has been named the recipient of a 4-H science innovator award.
As winner of the award, Murray will receive an all-expense paid trip to the flagship 4-H National Youth Science Day event to be held Wednesday, Oct. 7, in Washington, D.C., where she will represent the state's 4-H program. 
National Medal of Science
President Barack Obama recently presented the National Medal of Science to University of Delaware alumnus Rakesh Jain.
Warren Award
Rosalind Johnson, assistant dean for student success in the NUCLEUS Program in UD's College of Arts and Sciences, was presented the John Warren Excellence in Leadership and Service Award during a May 26 ceremony.
"I am honored to receive this award. 4-H has helped me with my science, technology, engineering and math (STEM) interest, and I have worked with many different people interested in this field," said Murray, who credits her experience as a volunteer teaching science at Newark's 4-H day camps and the state environmental camp as spurring her interest. 
Murray is able to attend the national science event because Delaware 4-H received first place in the national 4-H Grown competition, which, in addition to Murray's sponsorship to the conference, included a $10,000 Innovation Incubator science scholarship focused on interactive STEM learning, a mission mandate of Delaware's 4-H curriculum. 
The sponsorship was made available through National 4-H Council and HughesNet, the nation's leading satellite Internet service.
Murray is a three-year member and current president of New Castle County's Camp Counselor Club, which meets throughout the year and supports the county's summer camp program. 
"I am thrilled that Colleen is being honored with this prestigious award," said Mallory Vogl, New Castle County 4-H educator. "Her enthusiasm toward STEM combined with her commitment to community service makes her an ideal role model for 4-H youth throughout the country. She is very deserving of this award and I am so proud."
A graduate of Padua Academy in Wilmington, Murray focused on science-related topics in her high school coursework, including environmental education and engineering. 
She participated with Padua's competitive robotics team, the X2 Factor, and part of the team's mandate involved community outreach projects. Those included an Urban Promise program that assisted students with annual science fair projects.
From 2011 to present, Murray has been a fixture at various 4-H day and overnight camps venues. Her service as a volunteer camp counselor and instructor has focused on environmental education, gardening, engineering, biotechnology and forensics studies modeled after CSI: Crime Scene Investigation.
Watching campers make a connection through science, engineering, technology and mathematics has had an impact on Murray. "Their joy and enthusiasm is why I want to continue with STEM outreach," she said. "Because of that camp, maybe one of them will decide to go into science, just like my camp activities helped me discover engineering."
In addition to her school and 4-H activities, Murray served as an intern for the past two summers at the University of Delaware Center for Composite Materials (CCM). She assisted in a grant-support project on the creation of protective gear for the military ad worked as a counselor for an engineering summer program. 
While serving as a CCM intern, Murray worked alongside UD undergraduate students and participated in the center's annual research symposium. Her project, undertaken with Christine Sauerbrunn and titled "Investigation of Lateral Constraints to Utilize Higher Buckling Modes," took second place at the 2013 symposium.
This summer, Murray will return to camp to present a guest lecture on composite materials.
She is a member of UD's Class of 2019 and plans to study mechanical engineering.