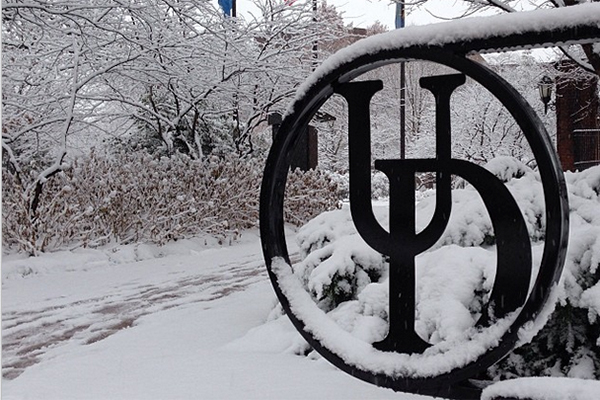 Snow day remedies
IT offers UD Capture, other resources to help faculty make up for lost class time
3:24 p.m., Jan. 22, 2016--Due to upcoming weather events and the potential resulting class cancellations, University of Delaware Information Technologies (IT) reminds faculty members of online resources available to them to present material from "lost" class sessions. 
Faculty can consult IT's technology options for course continuity webpage for information about Sakai@UD, Canvas, PO Box, UD Dropbox, Google Apps, UD Capture and other tools that may facilitate communication. 
June 6: UDid It! Picnic
All UD faculty and staff members are invited to attend the annual UDid It! employee appreciation picnic, set from 11 a.m.-1:30 p.m., Monday, June 6, on The Green.
2FA protects you
If you are using two-factor authentication (2FA), even if a hacker has your password, your information is probably safe.
Faculty members might find the self-service UD Capture Studios to be particularly helpful in presenting missed material to students. The studios, located in 309 Gore Hall and 208 Harker Interdisciplinary Science and Engineering Laboratory, are equipped with a recording station, microphone, and a video connection for a laptop computer. 
The rooms are available for reservation online and a quick start guide is available to guide faculty through the recording process. Note that this option requires that Gore Hall or Harker ISE Lab is open for access.
Faculty should evaluate all of these tools to see which will best match their teaching needs during a regular semester and which may help maintain continuity during unusual circumstances. 
Faculty who would like additional assistance using these technologies can contact the IT Support Center by submitting a Help Request Form, calling 302-831-6000, or emailing consult@udel.edu.