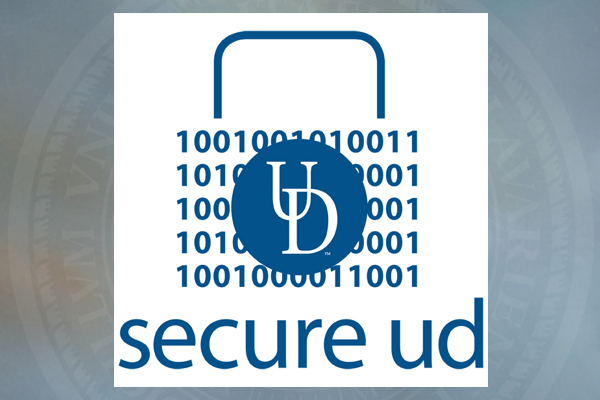 Secure UD training
University sets new information security training schedule
3:21 p.m., Jan. 22, 2016--Starting next week, Secure UD training is getting an update for 2016. A new, phased rollout will periodically introduce smaller portions of the curriculum to University of Delaware faculty, staff and other employees to make it more convenient to complete and to help reinforce the importance of cybersecurity throughout the year.
Secure UD training, introduced in 2014, is the University's information security awareness training program. It's a modular, online, and self-paced program that equips employees with the knowledge and best practices they need to identify and defend against threats to personal and University data and systems. 
June 6: UDid It! Picnic
All UD faculty and staff members are invited to attend the annual UDid It! employee appreciation picnic, set from 11 a.m.-1:30 p.m., Monday, June 6, on The Green.
2FA protects you
If you are using two-factor authentication (2FA), even if a hacker has your password, your information is probably safe.
Employees who are enrolled in Secure UD training are encouraged to complete the training annually to stay up to date on information security threats and practices.
Previously, Secure UD training was released once per year. This year, modules will be released in three sets rather than all at once, helping faculty, staff, and other employees pace their training and giving them the opportunity to refresh their knowledge over the course of the year.
The first set of modules will be released beginning this week.
The second set of modules will be released in April.
The third set of modules will be released in September.
"Enabling employee development and success is an important part of what we do in IT," said Jason Cash, acting vice president for information technologies. "We want to give faculty and staff a smoother and more consistent learning experience and encourage them to think of information security as a shared responsibility that benefits not only the entire University community, but protects their personal information as well."
Employees are encouraged to complete training as it becomes available.
As part of the relaunch process, faculty, staff, and other employees who are enrolled in training will receive an automated email from noreply@securingthehuman.org confirming their 2016 enrollment. This email is not part of the University's planned winter phishing test.
To log in to your Secure UD training virtual learning environment, visit the Secure UD training Web site.
Contact the IT Support Center with any questions.