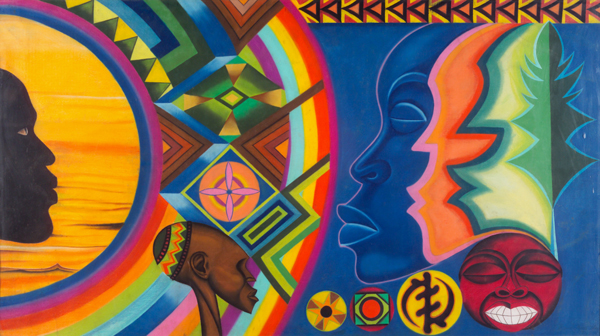 Feb. 10-May 15: African American art
'Blue&Black: African Rainbow' exhibition set at Mechanical Hall Gallery
9:51 a.m., Jan. 21, 2016--The University Museums of the University of Delaware will present the exhibition "Blue&Black: African Rainbow," on view Feb. 10-May 15 in the Mechanical Hall Gallery.
Selected from the University of Delaware's African American art collection, "Blue&Black: African Rainbow" underscores the aesthetic and narrative agencies of the African diaspora. 
June 5: Blue Hen 5K
University of Delaware graduates planning to attend Alumni Weekend are encouraged to register for the annual Blue Hen 5K walk and run, which will be held Sunday morning, June 5.
June 6-9: Food and culture series
The 20th annual June Lecture Series at the Osher Lifelong Learning Institute at UD in Wilmington will be held June 6-9. Titled 'June a la Carte,' this year's program focuses on great political documents, feminism, world politics and a Newark cuisine sampler.
Stylistically varied, the exhibition neighbors aesthetic formalism alongside expressions of historic, political and mythopoetic connections to the African continent. 
Large pastels by Amos Ashanti Johnson, including the recently conserved Hermes Trigmegistus (1977) and African Rainbow (1977), anchor the selection and the exhibition's Afrocentric dimensionality. 
Remembrance, ancestral recall and self-articulation are among the themes that emerge. 
Wedded to the Paul R. Jones Initiative's 2016 spring semester focus on the performing arts, "Blue&Black" – an honorific riff on the blues – showcases the interconnectedness of creative impulses across artistic forms. 
Featuring work by various artists – among them Arturo Lindsay, Howardena Pindell, Charles Searles, Kaylyn Sullivan TwoTrees and Lonnie Holley – the exhibition highlights artists as inventors and chroniclers, visual griots and ballad makers. 
The Mechanical Hall Gallery is open from noon-8 p.m. Wednesday, and noon-5 p.m. Thursday through Sunday. It is closed during all UD breaks and holidays.
Admission to all University Museums exhibitions and events is free and open to the public.
Guided tours are available by request. To book a tour, call 302-831-8037 or write to universitymuseums@udel.edu. 
For general information, see the University Museums website.
Several special events are being planned in conjunction with the exhibition.
The Touch of Blues celebratory opening program and reception will be held from 5-7 p.m., Wednesday, Feb. 10, at the Mechanical Hall Gallery. Those who attend can view the exhibition, enjoy refreshments and experience a blues performance by the Colin Miller Trio. The music will begin at 5:30 p.m. 
The annual Paul R. Jones Lecture, featuring Ty Jones, producing artistic director of the Classical Theatre of Harlem, will be held at 4 p.m., Thursday, March 10, in the Gore Recital Hall of UD's Roselle Center for the Arts.
RSVP for either event to universitymuseums@udel.edu or 302-831-8037