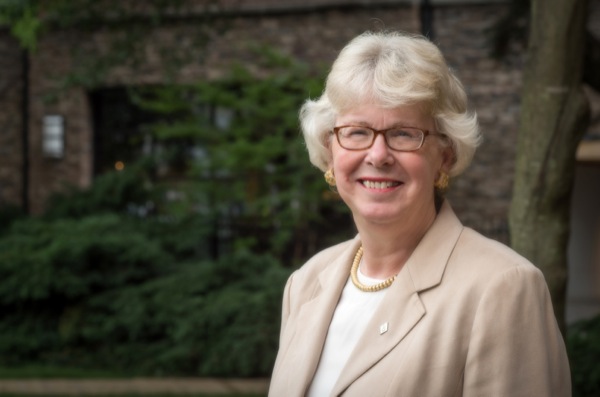 New assignment
Nancy Targett named provost, vice president for academic affairs at University of New Hampshire
12:09 p.m., Jan. 26, 2016--Nancy Targett, acting president of the University of Delaware, has been named provost and vice president for academic affairs at the University of New Hampshire (UNH).
Her appointment, which is effective Sept. 1, was announced today by UNH President Mark Huddleston. 
From graduates, faculty
As it neared time for the processional to open the University of Delaware Commencement ceremonies, graduating students and faculty members shared their feelings about what the event means to them.
Doctoral hooding
It was a day of triumph, cheers and collective relief as more than 160 students from 21 nations participated in the University of Delaware's Doctoral Hooding Convocation held Friday morning on The Green.
"Nancy brings an enormous breadth of experience to this role," Huddleston said. "She recognizes the many challenges facing higher education across the country. I am confident she is the person to strengthen the quality of our academic and research programs as we enhance UNH's profile as a top-tier research university."
As UNH's senior academic administrator, Targett will be responsible for the university's academic priorities and the allocation of resources to support them. She will be working closely with academic deans, department heads, student services professionals, faculty and staff.
Targett said, "I am honored and excited at the opportunity to serve as provost and vice president for academic affairs at the University of New Hampshire. I am ready for new challenges and new adventures. 
"At the same time this is a bittersweet moment for me, since I have a deep affection for the University of Delaware and its people. You can be assured that I will give my full attention to serving UD until my departure in the summer of 2016," she said.
John Cochran, chairman of UD's Board of Trustees, said, "Nancy Targett's distinguished tenure at the University -- as a faculty member, dean, Sea Grant director and now acting president -- has been marked by her dedication and commitment to UD's mission and its people. Nancy has truly made a difference at Delaware. As she prepares for her new post at the University of New Hampshire, I know the entire University community will join me in extending congratulations to Nancy and thanking her for her service to UD.
"Nancy began serving as acting president just as I began as board chair," he said, "and I have had the opportunity to observe her leadership, dedication and enthusiasm firsthand. I am truly grateful for all that she is doing to guide the University during this transition period…. Job well done!"
A member of the UD faculty since 1984, Targett became acting president of the University in July 2015. Her term as acting president expires when Dennis Assanis becomes president on July 1. 
Targett, who is a nationally recognized expert on ocean issues, previously served as dean of UD's College of Earth, Ocean, and Environment and director of the Delaware Sea Grant College Program. 
About the University of New Hampshire
The University of New Hampshire, founded in 1866, is a world-class public research university with the feel of a New England liberal arts college. A land, sea, and space-grant university, UNH is the state's flagship public institution, enrolling 13,000 undergraduate and 2,500 graduate students.