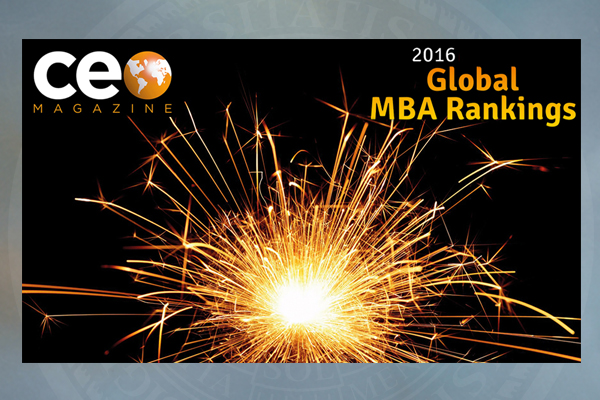 MBA top tier
CEO Magazine rankings place Lerner College MBA program in top tier
12:53 p.m., Feb. 12, 2016--CEO Magazine has ranked the MBA program at the University of Delaware's Alfred Lerner College of Business and Economics in the top tier of MBA programs in North America, and ranked the online MBA program No. 22 in global online MBA rankings.
"I am very pleased that our MBA programs are being recognized by CEO Magazine for the excellent work our faculty do," said Jack Baroudi, associate dean for graduate and MBA programs in the Lerner College. "Our high-quality program ensures that our MBA students gain the knowledge, skills and competencies needed to accelerate their careers."
National Medal of Science
President Barack Obama recently presented the National Medal of Science to University of Delaware alumnus Rakesh Jain.
Warren Award
Rosalind Johnson, assistant dean for student success in the NUCLEUS Program in UD's College of Arts and Sciences, was presented the John Warren Excellence in Leadership and Service Award during a May 26 ceremony.
CEO Magazine has been showcasing top business schools from around the globe since it first launched in 2008. In 2012 the publication launched its annual global MBA rankings, profiling MBA, EMBA and online MBA programs. 
This year the magazine reached out to over 300 business schools across North America, Europe and Australia and received responses from 140 institutions – an increase of over 100 percent on the previous year.
"We are thrilled with the uptake and response to this year's survey. The increase in the number of business schools participating, and the inclusion of some very well-known and highly regarded players within the market, serve to further establish the CEO Magazine global MBA rankings as a go-to reference tool for future MBA students," said the magazine's group editor-in-chief, Alexandra Skinner.
The rankings are designed with applicants in mind, and examine the nuts and bolts of an MBA: the learning environment, class sizes, tuition fees, faculty, delivery methods, international diversity, gender make-up and more. 
The objective is to identify schools that marry exceptional quality with great return on investment.
The complete 2016 rankings can be viewed in the latest edition of CEO Magazine or online on the magazine's new website.