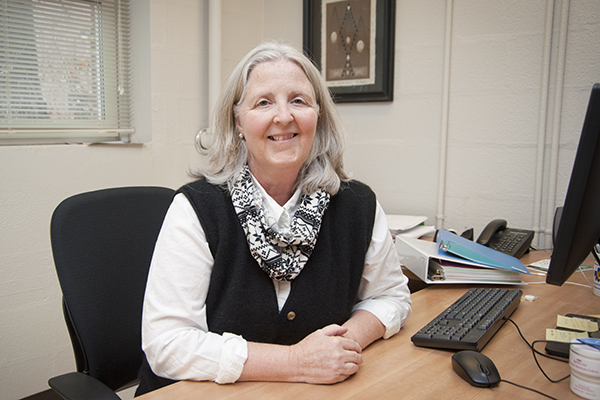 Named professor
Lesa Griffiths named T.A. Baker Professor in College of Agriculture and Natural Resources
8:53 a.m., Feb. 15, 2016--Lesa Griffiths has been named the T.A. Baker Professor in the University of Delaware's College of Agriculture and Natural Resources (CANR). Griffiths assumed the role on Jan. 16, succeeding Tom Sims, who retired on Jan. 15. 
The T.A. Baker Professorship, named for Thomas A. Baker, a highly respected and appreciated faculty member in the Department of Animal and Food Sciences (ANFS) from 1919 until 1958, is awarded for a five-year term based on clear and substantial evidence of impact in teaching, research or extension. 
National Medal of Science
President Barack Obama recently presented the National Medal of Science to University of Delaware alumnus Rakesh Jain.
Warren Award
Rosalind Johnson, assistant dean for student success in the NUCLEUS Program in UD's College of Arts and Sciences, was presented the John Warren Excellence in Leadership and Service Award during a May 26 ceremony.
A five-person committee composed of endowed chairs from across the University reviewed applications for the professorship.
Griffiths, who has been at UD for 29 years and has interacted with thousands of undergraduate students, said she hopes that she has "impacted and will continue to impact the thousands of students and colleagues that I have taught and mentored in a way that is meaningful and lasting, and in a manner that truly honors Prof. Baker." 
After receiving her bachelor of science degree in animal science from Cornell University — of which Baker also was a graduate — and her master's degree and doctorate in animal nutrition from Purdue University, Griffiths came to UD and served one term as associate dean for academic programs for CANR, followed by two terms as associate provost for international programs and director of the University's Institute for Global Studies (IGS). 
Under Griffiths' leadership, participation in study abroad increased over 60 percent, ranking UD consistently among the top public institutions in the United States for study abroad.
Griffiths teaches a number of required courses and labs, including the Introduction to Animal Science and Animal Nutrition courses and the hands-on, laboratory-based capstone courses on beef cattle, sheep and swine. She developed the University's first study abroad program to New Zealand and has accompanied over 200 students on study abroad programs focused on international agriculture.
Griffiths has been recognized with the United States Department of Agriculture (USDA) National Award for Teaching Excellence, the UD Excellence-in-Teaching Award, the CANR Outstanding Teaching Award, and the UD On-line Teaching Award.
Purdue University recognized Griffiths with its Distinguished Alumni Award and she has also been acknowledged for her work with students and is the recipient of two YoUDee Leadership Awards for outstanding adviser of a registered student organization, the Equestrian Team, and the Agricultural College Council (AgCC) Advising Award. 
Griffiths is the author of a variety of publications on pedagogical topics including problem-based learning and the impact of study abroad on students.
In his nomination letter, Limin Kung, the S. Hallock du Pont Professor of Animal and Food Sciences and interim chair for the Department of Animal and Food Sciences, said that Griffiths has an impact on people that is "long-term and wide-reaching," noting that she teaches a large freshman course that enrolls over 200 students as well as the senior capstone course for more than half of the department's graduating seniors.
"Her influence on freshmen ANFS students is impactful as it is the first experience that incoming students have to our major. It is not uncommon to hear students praise her for making classes informative, challenging and fun," said Kung, who added that the impact of the capstone course Griffiths teaches "extends far beyond the in-depth animal experience that students receive under her guidance. Lesa makes herself available to students 24/7 during these courses." 
Kung added, "It is Lesa's personal impact on students — including some of the most challenging students — that is most powerful and profound. She truly understands the challenges that students face and she helps guide them through the University with unyielding support." 
In her letter of nomination, Susan Garey, extension agent for animal science and state 4-H animal science program coordinator, said she was writing "on behalf of the thousands of students [Griffiths] has touched during her career at the University of Delaware. We were fortunate to encounter Dr. Griffiths when we enrolled as undergraduates in the College of Agriculture and Natural Resources at UD. 
"Dr. Griffiths has fulfilled many roles in our lives during her nearly 30-year career at UD. As undergraduates, she fulfilled the traditional roles of professor, academic adviser and club adviser; after graduation, she became a role model, mentor and wise friend. Through these roles, she has had a tremendous and lasting impact on students' lives, not only during our time at UD but in our professional careers, as well." 
James Magee, Judge Hugh M. Morris Professor of Political Science and International Relations, said in his nomination of Griffiths, "Through her contributions to many of the missions of the University, internationalizing the campus and especially in the area of teaching and mentoring, both students and faculty, Lesa's performance at UD can accurately be described as excellent. Her contributions from her work as a teacher, mentor, and senior administrator have truly been incredible." 
About Thomas A. Baker
The professorship that bears his name was created by his wife, Ruth Baker, through a bequest made for "a purpose which will advance the aims of the University of Delaware and appropriately honor the name of Prof. T.A. Baker." 
The Board of Trustees of the University formally established the professorship on Dec. 19, 2001, as the T.A. Baker Professorship in Agriculture and Natural Resources. 
The T.A. Baker Professorship is a college-specific award that can be bestowed on a faculty member in any discipline within the College of Agriculture and Natural Resources. 
Article by Adam Thomas
Photo by Wenbo Fan