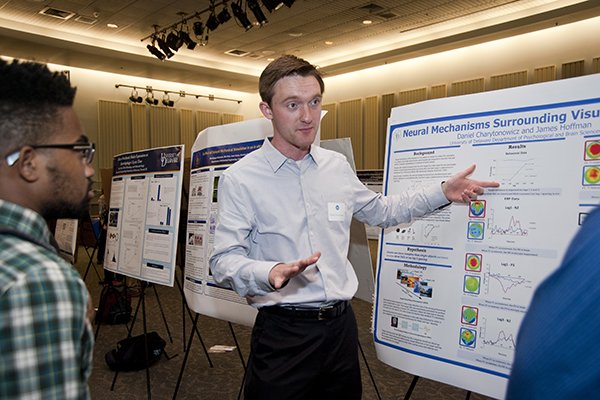 Global scholarship
UD engineering student receives prestigious Gates Cambridge Scholarship
9:55 a.m., Feb. 16, 2016--Daniel Charytonowicz locked up admission to medical school when he was just a sophomore through the FlexMed Early Assurance program in the Icahn School of Medicine at Mount Sinai, which left him free to pursue his studies unencumbered by traditional pre-medical requirements and admissions exams.
That freedom allowed the University of Delaware Honors Program student to create a mobile app, uMash Collage Generator, that has more than 300,000 users; launch an annual computer science initiative, TechDay, at his high school on Long Island; compete on UD's cross country and track and field club teams; and conduct research on topics ranging from cognitive psychology to systems biology. 
National Medal of Science
President Barack Obama recently presented the National Medal of Science to University of Delaware alumnus Rakesh Jain.
Warren Award
Rosalind Johnson, assistant dean for student success in the NUCLEUS Program in UD's College of Arts and Sciences, was presented the John Warren Excellence in Leadership and Service Award during a May 26 ceremony.
Now the senior, who is majoring in biomedical engineering with a minor in computer science, will postpone medical school for a year to gain additional experience through one of the top international scholarships in the world — the Gates Cambridge Scholarship. Charytonowicz is the first Blue Hen to be selected as a Gates Cambridge Scholar.
The 35 recipients, selected from more than 800 applicants, are described as "the most academically brilliant and socially committed young people in the U.S."
Charytonowicz, who is from Wantagh, New York, will spend the 2016-17 academic year studying for a master's degree in Cambridge University's bioscience enterprise program.
The program will provide him with what he sees as a valuable and critical link between engineering and medicine.
"At Cambridge, I hope to gain a better understanding of how to translate research into the devices and treatments that will best meet patients' needs," he says. "I really want to bring change to health care."
Charytonowicz sees technology merging into medicine, enabling the implementation of personalized medicine and the development of new ways for patients to connect with medical professionals.
"Everything revolves around patient need," he says. "With that at the core, we have to ask, 'What are the solutions, are they affordable, does the technology exist to solve the problem, and how do we get it to market?'"
But most of all, Charytonowicz, who attended UD as a Unidel Eugene du Pont Memorial Scholar and also was recognized as a Goldwater Scholar in 2014, knows that the year in Cambridge will bring new people into his life and provide him with new perspectives.
Dawn Elliott, professor and chair of biomedical engineering at UD, foresees for Charytonowicz "a successful career that impacts global health and wellbeing."
"His combined interests and education in biomedical engineering, computer science, neuroscience, medicine, and entrepreneurship will uniquely position him for his career goals," she says. 
"His various experiences, including the upcoming year at Cambridge, will prepare him to be a practicing physician who also works as a medical consultant and investor in biomedical-based ventures, specializing in computer software technologies with healthcare applications."
Charytonowicz plans to earn both M.D. and Ph.D. degrees after his year at Cambridge.
The Gates Cambridge Scholarship was established by the Bill and Melinda Gates Foundation in 2000. For more information, visit the website.
Article by Diane Kukich