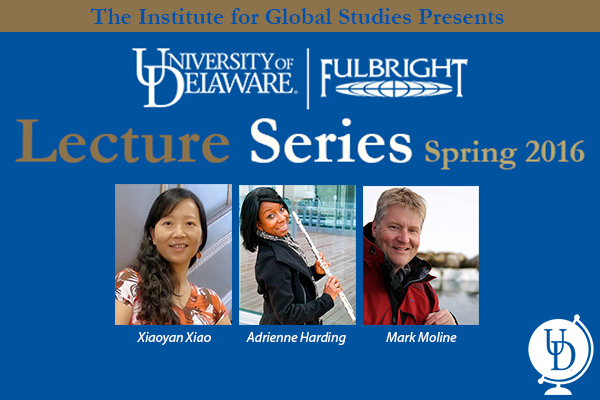 Celebrate UD Fulbright
Institute for Global Studies launches spring Fulbright Lecture Series
1:53 p.m., Feb. 24, 2016--The University of Delaware Institute for Global Studies' second annual Fulbright Spring Lecture Series will kick off Thursday, Feb. 25, with a lecture by Xiaoyan Xiao, co-director of the UD Confucius Institute and professor of languages, literatures, and cultures at Xiamen University in China. 
Xiao's passion for language initially led her to research the status of the more than 20 million deaf people in China. She will brief the audience on family life, education and career opportunities for the Chinese deaf community. 
Fulbright awards
Three University of Delaware students and an alumna have received word this spring that they will travel abroad as part of the newest class of Fulbright Student Program award winners.
Peace Corps plans
Two University of Delaware students, John McCarron and Bridgette Spritz, have been selected as Peace Corps volunteers and will serve in Ghana and Rwanda.
In addition, Xiao will describe how her time as a 2011 Fulbright Visiting Scholar to Gallaudet University ultimately led her to understand the problems, prospects and path forward for this, the largest community of its kind in the world. 
Co-sponsored by the UD Confucius Institute and the vice provost for diversity, the event will take place beginning at 7 p.m. in the Gore Recital Hall of the Roselle Center for the Arts, with a reception immediately following. American Sign Language interpreters will be on hand to translate for members of the deaf community. 
In conjunction with her lecture, Xiao will also speak to UD students during an Introduction to Disability Studies class, and will work with children at the University of Delaware Early Learning Center on a special activity.
The lecture series will continue in the Gore Recital Hall at 7 p.m., Wednesday, March 23, with a presentation by Adrienne Harding, a flutist who received both her undergraduate (1999) and graduate (2001) degrees in music from UD.
Harding, who was awarded a Fulbright U.S. Student Award to Austria in 2011, will describe her experience researching historical dance and instrumental music at the University of Salzburg, and how she "found her groove" during her global journey.
Students and community members interested in music and theatre are invited to join in for an afternoon workshop co-led by Harding and Caroline Copeland, the associate director of the New York Baroque Dance Company. Here, Copeland will connect historic dance and music, allowing participants to understand classic pieces within their interpretive context through meaningful experience with movement. Harding's lecture and workshop are co-sponsored by the UD Department of Music. 
The New York Baroque Dance Company is renowned for its recreations of 17th and 18th century ballets and operas and research in performance practice and dance notation, and is a forerunner in the field of historical dance pedagogy.
The workshop will take place from 2:30-4:30 p.m. on March 23 in the Gore Recital Hall.
The series will come to a close on Tuesday, April 5, with an Arctic Month presentation by Mark Moline, director of UD's School of Marine Science and Policy and 2011 Fulbright Arctic Chair. 
Moline and Jonathan Cohen, assistant professor of marine science, will recount their most recent investigations of the Arctic polar night.
Until recently, the Arctic winter is thought to have pushed the surrounding environment into a sleep-like state. Instead, the team has documented a system in which diversity, activity levels and biological interactions across most trophic levels and phyla remain high during the winter. 
The team will review their work, discuss findings and share experiences of living and working in this extreme environment. 
Co-sponsored by the UD's College of Earth, Ocean, and Environment, the Arctic lecture will take place beginning at 7 p.m. in the atrium of the Harker Interdisciplinary Science and Engineering Laboratory.  All are welcome to attend a reception to follow. 
For more information on each of the speakers or to RSVP, visit the Institute for Global Studies website.
The Fulbright Lecture Series is hosted each year as a hallmark of UD's Fulbright Initiative. Founded by the Institute for Global Studies in 2014, the initiative seeks to increase student, faculty and alumni awareness of opportunities for international scholarship and service available via the Fulbright Program and to recognize the more than 150 members of the UD community who have received one of these prestigious awards.
Students interested in learning more about the Fulbright Program are invited to attend a spring information session held on the following dates at 3:30 p.m.
Wednesday, March 16, in the Wright House at 44 Kent Way.
Thursday, April 14, in Purnell Hall, Room 229.
Wednesday, April 27, in Purnell Hall, Room 229.
About the Fulbright Program
Each year the U.S. Fulbright Program provides 8,000 grants for research or teaching in one of over 140 countries throughout the world. Introduced by U.S. Sen. J. William Fulbright in 1946, the program seeks to foster international partnership and cultural exchange by funding research and teaching opportunities worldwide.
In addition, the University welcomes Fulbright Scholars for research and graduate study, with scholars hailing from Afghanistan, Colombia, Egypt, Iraq, Mexico, Pakistan, Spain, Tunisia and Ukraine. 
In August 2016, the University will host its second annual one-week Fulbright Gateway Orientation program for Fulbright Foreign Students administered by IGS. 
Article by Nikki Laws