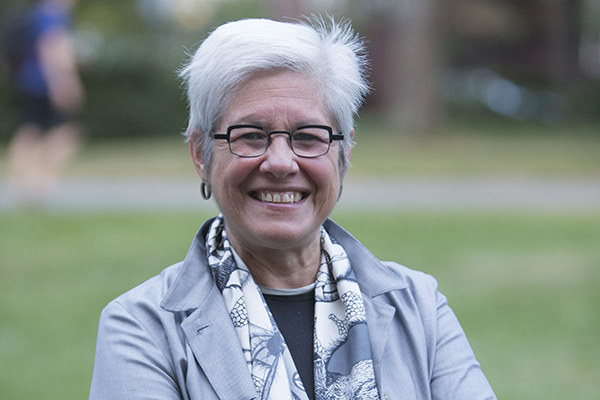 Feb. 22: Lecture on faculty diversity
Harvard leader to address ways to foster faculty development, diversity
1:37 p.m., Feb. 9, 2016--Judith D. Singer, senior vice provost for faculty development and diversity at Harvard University, will present the lecture "Lessons Learned in Fostering Faculty Development and Diversity" on Monday, Feb. 22, at the University of Delaware.
The lecture, which is open to all members of the campus community, will take place from 4-5 p.m. in Multipurpose Room C of the Trabant University Center. A light reception will follow.
June 5: Blue Hen 5K
University of Delaware graduates planning to attend Alumni Weekend are encouraged to register for the annual Blue Hen 5K walk and run, which will be held Sunday morning, June 5.
June 6-9: Food and culture series
The 20th annual June Lecture Series at the Osher Lifelong Learning Institute at UD in Wilmington will be held June 6-9. Titled 'June a la Carte,' this year's program focuses on great political documents, feminism, world politics and a Newark cuisine sampler.
In this talk, Singer will describe six concrete strategies that institutions and individuals — both women and men — can use to support the careers of women and minority faculty. Her suggestions will have direct implications for all research universities, including UD.
"For years, Dr. Singer has led efforts to support faculty development and diversity at Harvard," said Rachel Davidson, professor in the Department of Civil and Environmental Engineering and interim associate dean for Women in Engineering. "We are delighted that she will be coming to UD to share her wealth of experience with us."
Singer also holds the appointment as the James Bryant Conant Professor of Education. In her role as vice provost, Singer oversees and guides Harvard's policies and practices in all areas of faculty affairs — including searches, promotions, retention and quality of life — with the three goals of insuring excellence, increasing accountability and fostering measurable progress in important domains. 
The talk is sponsored by the Women in Engineering program and UD ADVANCE.