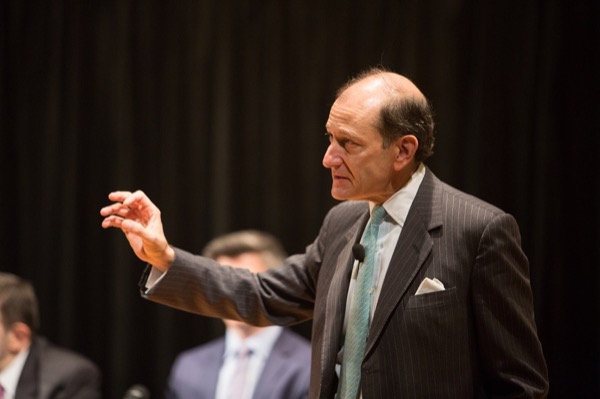 Ethics thought leader
Elson named to list of Most Influential People in Business Ethics for fifth year in row
8:19 a.m., Feb. 2, 2016--The University of Delaware's Charles Elson has been recognized by the Ethisphere Institute as one of 2015's 100 Most Influential People in Business Ethics for the fifth consecutive year.
The honor recognizes not only those who have devoted their careers to furthering better business behavior but also those who understand the impact companies have on improving the world and have made efforts to increase the quality of life for humankind.
National Medal of Science
President Barack Obama recently presented the National Medal of Science to University of Delaware alumnus Rakesh Jain.
Warren Award
Rosalind Johnson, assistant dean for student success in the NUCLEUS Program in UD's College of Arts and Sciences, was presented the John Warren Excellence in Leadership and Service Award during a May 26 ceremony.
"In our tenth year, we continue to work toward improving corporate integrity globally and know that this is a common goal among those on this list," said Ethisphere's editor-in-chief Nicole Thomas. "Charles Elson is part of an exclusive community of leaders who have shown tremendous dedication to business ethics, transparency and sustainability. It offers us some hope and encouragement for an improved business community and a better world going forward."
Ethisphere named Elson to the list for the first time in 2011. Elson is ranked No. 41 on this year's annual ranking in the "thought leadership" category.
"I am excited and deeply honored to be recognized by an organization so respected and influential in the business ethics field," said Elson, who is UD's Edgar S. Woolard, Jr. Chair in Corporate Governance, a professor of finance and director of the John L. Weinberg Center for Corporate Governance in the Alfred Lerner College of Business and Economics.
Other notable individuals on the 2015 ranking include:
Sally Quillian Yates, deputy attorney general, U.S. Government (No. 1)
Anne Simpson, investment director, global governance, CalPERS (No. 2)
Pope Francis (No. 3)
William Dudley, president and CEO, Federal Reserve Bank of New York (No. 6)
José Ugaz, chair, Transparency International (No. 7)
Paul Tudor Jones II, founder, Just Capital (No. 19)
Benjamin Heineman Jr., distinguished senior fellow, Harvard Law School (No. 37)
The full rankings were released in the Q4 2015 issue of Ethisphere magazine and are available online here.
Honorees are recognized in 11 categories: Academics, Business Leadership, Corporate Culture, Design and Sustainability, Governance, Government and Regulatory, Investment andResearch, Media and Whistleblowers, Non-Governmental Organization, Philanthropy, and Thought Leadership.
Nominations for Ethisphere's 2016 list can be made by visiting the 100 Most Influential page on ethisphere.com. 
Photo by Ambre Alexander Payne