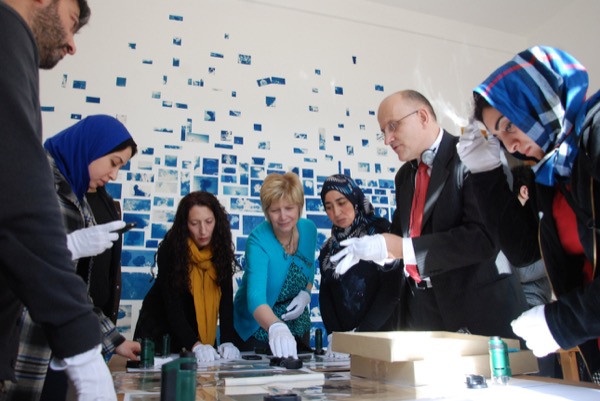 Scholarship, conservation honors
Debra Hess Norris wins prestigious national award for preservation work
2:04 p.m., Feb. 22, 2016--Citing her international teaching and conservation work, training of future leaders in the field, scholarship and "tireless" advocacy and public outreach, two major organizations have jointly honored the University of Delaware's Debra Hess Norris with their 2016 award for distinction in scholarship and conservation.
Norris, who is Unidel Henry Francis du Pont Chair in Fine Arts and chair of the Department of Art Conservation at UD, is an internationally recognized photograph conservator. She was selected to receive the 2016 award from the College Art Association (CAA) and the American Institute for Conservation (AIC).
National Medal of Science
President Barack Obama recently presented the National Medal of Science to University of Delaware alumnus Rakesh Jain.
Warren Award
Rosalind Johnson, assistant dean for student success in the NUCLEUS Program in UD's College of Arts and Sciences, was presented the John Warren Excellence in Leadership and Service Award during a May 26 ceremony.
"Debra Hess Norris has perhaps done more than any single individual in the 21st century to further the cause of preservation of cultural heritage both nationally and internationally," the CAA wrote in presenting the award at its annual conference earlier this month. A second presentation will be made at the AIC's annual meeting in May.
The CAA announcement of the award cited many of Norris' accomplishments, including the more than 135 workshops she has organized and taught on photograph preservation, emergency preparedness and/or disaster recovery, in such locations as Lebanon, New Zealand, India and across the United States. 
It also noted that, through her teaching in the graduate Winterthur/University of Delaware Program in Art Conservation, she has taught more than half of all the photograph conservators in the U.S.
Norris joined the University faculty in 1982, after earning her bachelor's degree in 1977 and her master's in 1980, both from UD.
"Her former students now head conservation departments in many major museums, libraries and historical societies," the CAA said.
The award announcement also cited her many published articles and an important textbook she co-edited in 2010, Issues in the Conservation of Photographs, as well as her work in establishing international partnerships such as the training of cultural heritage professionals to care for photographic collections across the Middle East.
In accepting the award, Norris spoke briefly about her love of photography — its complexity, beauty and "its connection to memory and the human spirit." When she received her graduate degree, she said, there were fewer than five conservators worldwide in the emerging field of photography conservation.
Over the years at UD, she said, she has worked with many talented colleagues. She thanked teachers and mentors Joyce Hill Stoner, who is the Edward F. and Elizabeth Goodman Rosenberg Professor in Material Culture, and the late Jose Orraca, in addition to faculty members Larry Nees, Perry Chapman, Lauren Petersen and Virginia Bradley, among others. 
Norris also thanked "my many students, past and present, who teach and inspire me daily with their dedication, passion, exceptional promise, achievement and generosity of spirit."
Article by Ann Manser