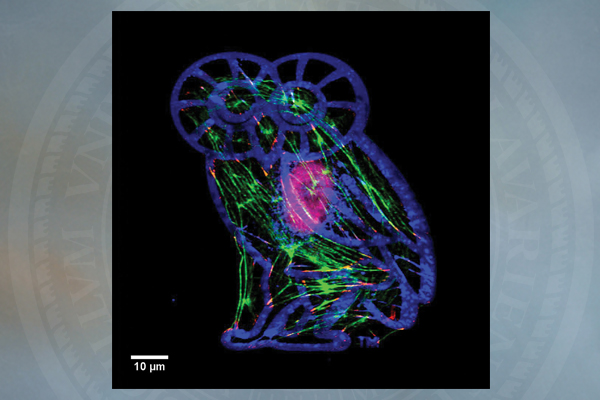 April 4-16: Art in Science
Art in Science exhibit, symposium to highlight beauty of science and engineering
1:06 p.m., Feb. 23, 2016--An Art in Science exhibit will be held in the Harker Interdisciplinary Science and Engineering Laboratory at the University of Delaware from April 4-16, culminating in a symposium from noon to 5 p.m. on Saturday, April 16.
The event is aimed at highlighting exceptional research at UD, engaging and educating the local community on the impact of the research, and sparking interest in STEM (science, technology, engineering and mathematics) among students from local elementary and high schools.
June 5: Blue Hen 5K
University of Delaware graduates planning to attend Alumni Weekend are encouraged to register for the annual Blue Hen 5K walk and run, which will be held Sunday morning, June 5.
June 6-9: Food and culture series
The 20th annual June Lecture Series at the Osher Lifelong Learning Institute at UD in Wilmington will be held June 6-9. Titled 'June a la Carte,' this year's program focuses on great political documents, feminism, world politics and a Newark cuisine sampler.
The deadline for submission of high-resolution images acquired from research activities, along with a short description of each image and its context, is noon on Thursday, March 3. Approximately 60 images will be chosen for printing and display.
The submitted images will be judged by a panel of artists, engineers and scientists for aesthetic quality and ranked. The creators of the top 10 submissions will be invited to present 10-minute lectures at the April 16 symposium, describing how their images were acquired, what they represent, and the potential impact of the research on society. 
Some of the art will also be available for purchase at the symposium.
In addition, Jeff Caplan, director of the Delaware Biotechnology Institute Bioimaging Center, will present a lecture on various microscopy techniques used in research at UD. 
"We want to use images from all fields of research here to highlight the beauty and interconnectivity of art and science," says Michael David, a doctoral student in biomedical engineering. 
"We also hope to teach and inspire local residents, with a particular emphasis on igniting interest in STEM education and careers in underrepresented populations," says John Slater, assistant professor of biomedical engineering. 
The event is sponsored by the College of Engineering, the College of Arts and Sciences and the Department of Biomedical Engineering.
For more information, visit the website.
Article by Diane Kukich