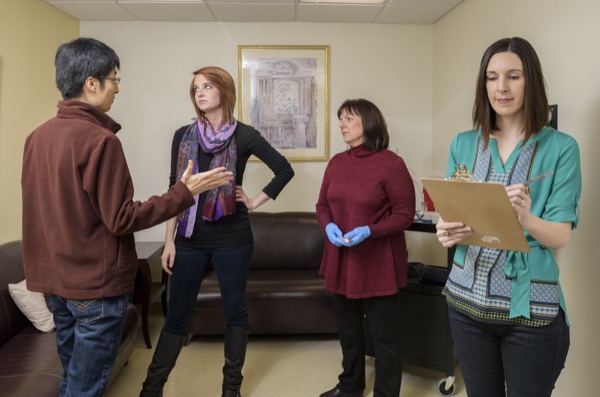 Rising Star award
Jaremka recognized for innovative research by Association for Psychological Science
9:14 a.m., Feb. 10, 2016--Lisa Jaremka, assistant professor of psychological and brain sciences at the University of Delaware, has been recognized by the Association for Psychological Science (APS) for her research on the consequences of negative social experiences, including rejection, loneliness and marital discord.
The APS designated Jaremka as a "Rising Star" and said that her "innovative work has already advanced the field and signals great potential for [her] continued contributions." The award is given to scientists in the earliest stages of their independent research careers.
National Medal of Science
President Barack Obama recently presented the National Medal of Science to University of Delaware alumnus Rakesh Jain.
Warren Award
Rosalind Johnson, assistant dean for student success in the NUCLEUS Program in UD's College of Arts and Sciences, was presented the John Warren Excellence in Leadership and Service Award during a May 26 ceremony.
Jaremka studies interpersonal relationships and the effects that negative experiences in those relationships have on physical health. She and her research team in UD's Close Relationships and Health Lab collect blood and saliva samples and measure such biological markers as blood pressure and inflammation levels in individuals who are experiencing social stress.
"I think most people know that stress is bad for you," Jaremka said. "But I don't think they know the degree to which it affects the immune system, and there's clear evidence that it does have a very negative effect.
"That's alarming to me because our immune system is so important to our ability to function."
Some physiological indicators show up almost immediately in stressful situations, she said, such as the rise in blood pressure that commonly occurs during a heated argument. But other effects may develop over a longer period of time, including weakened immune systems.
Although all types of stress can damage an individual's physical health, Jaremka said she sees important differences in the stress caused by negative social or interpersonal experiences relative to other stressors.
"People have a basic need to feel cared for and loved by others," she said. "Failing an exam is stressful, but it doesn't threaten this basic need.
"Social stress — loneliness or rejection — is different because it directly impacts a person's basic need to feel connected to others. Loneliness is a chronic state of feeling unloved, and thus can be particularly damaging."
Jaremka and her team observe people experiencing various types of interpersonal stress and measure their physiological reactions.
Last year, she co-authored a paper in the journal Clinical Psychological Science that found links between marital stress, appetite, diet and body mass. By studying hunger hormones in couples after hostile arguments, the researchers found that those arguments were linked to poor food choices among non-obese people. 
Jaremka, who joined the UD faculty in 2014, earned a doctorate in social psychology at the University of California, Santa Barbara, and held a postdoctoral position at Ohio State University.
Article by Ann Manser
Photo by Kathy F. Atkinson