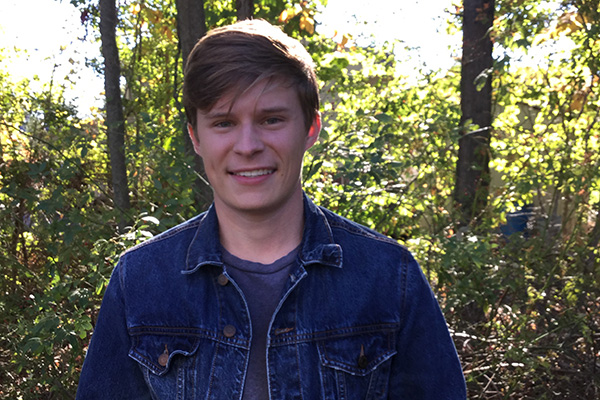 Poet laureate
English education student wins prestigious Bucks County recognition
8:21 a.m., Dec. 16, 2015--Tyler Kline, a University of Delaware senior who is majoring in English education, has been named the poet laureate of Bucks County, Pennsylvania, selected from a field of 70 nominees in the annual open competition.
The recognition makes Kline the youngest honoree in the laureate program's 38-year history. The oldest poet laureate competition in Pennsylvania, it is supported by the Bucks County Community College Foundation and the county commissioners.
National Medal of Science
President Barack Obama recently presented the National Medal of Science to University of Delaware alumnus Rakesh Jain.
Warren Award
Rosalind Johnson, assistant dean for student success in the NUCLEUS Program in UD's College of Arts and Sciences, was presented the John Warren Excellence in Leadership and Service Award during a May 26 ceremony.
Kline, of Chalfont, Pennsylvania, started writing poetry during his senior year of high school after taking an inspiring creative writing course where he was exposed to contemporary poets and form. 
At UD, he delved further into his interest in poetry after taking classes with Jeanne Walker, professor of English, and Devon Miler-Duggan, instructor in English.
"I began to take my work more seriously," Kline said, spending time workshopping and revising along with submitting his poems to various literary magazines. 
It was in his English classes that he began to "connect with major topics and questions of the humanities and truly understand the beauty and significance of literature," he said.
He also helps to edit two literary magazines at the University, The Main Street Journal and Caesura.
"I'm delighted, but not surprised, that Tyler has won the competition," said Walker, who worked with Kline in an advanced creative writing workshop in 2014, adding that he "became the go-to guy" in commenting on the work of others.
"His poetry is both clear and startlingly inventive. He is a disciplined writer. In fact, Tyler's poetry seems so original precisely because he works hard, reading deeply in the tradition of American and British poets and thinking about how their work can teach him about his own writing."
Kline said that his belief in poetry is that it is rooted in all aspects of education – from teaching, to sciences, to the arts.
"Many poets today are writing about prevalent issues [such as the Black Lives Matter movement or women's rights] that to a degree affect the lives of any student," Kline said.
He also sees poetry as a scaffold to discuss issues tied to race, gender and identity along with functioning as a creative outlet that students can exercise freely. "Primarily, poetry has served as a tool to make sense of the figurative and natural world," he said. "I hope to convey the same benefits poetry has to my own students in the future." 
In May, Kline's chapbook, As Men Do around Knives, is going to be published by ELJ Publications. The book primarily deals with topics related to boyhood, community and rural life or, as Miller-Duggan puts it, "Bruce Springsteen with a barn."
Kline, who will be student-teaching at McKean High School near Wilmington, Delaware, this spring, is also applying to master of fine arts programs in poetry.
For more about Kline's poetry, visit his website.
Article by Juwan Montalvo