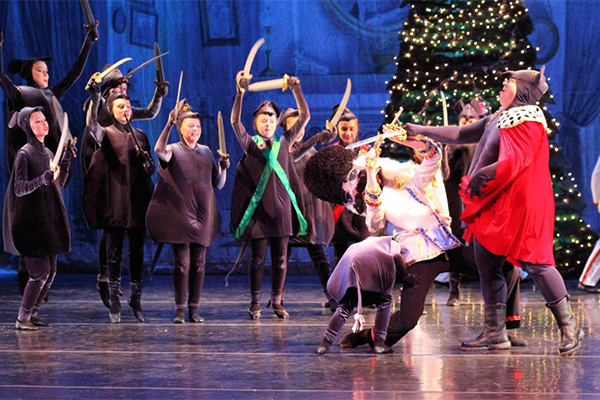 Nutcracker reprise
UD staff help bring the magic to Mid-Atlantic Ballet's annual Nutcracker
11:47 a.m., Dec. 15, 2015--Newark's Mid-Atlantic Ballet Company will perform its 13th annual Nutcracker ballet this weekend at the University of Delaware's Mitchell Hall.
The student dancers and instructors of Mid-Atlantic Ballet (MAB) have been staging The Nutcracker at Mitchell Hall each year since 2002. This year the company will present three performances of the holiday classic: Friday, Dec. 18, at 7 p.m. and Saturday, Dec. 19, at 12:30 and 4 p.m.
'Resilience Engineering'
The University of Delaware's Nii Attoh-Okine recently published a new book with Cambridge University Press, "Resilience Engineering: Models and Analysis."
Reviresco June run
UD ROTC cadets will run from New York City to Miami this month to raise awareness about veterans' affairs.
Members of the UD faculty and staff are an integral part of the production each year in supporting roles ranging from backstage assistants and costume designers to members of the cast and the studio's board of directors. 
"I have always enjoyed volunteering with Mid-Atlantic Ballet backstage during the Nutcracker," said Jason Mycoff, associate professor of political science and international relations at UD. "It is quite impressive watching dancers of all ages working together in perfect unison to create such a wonderful performance."
Mycoff's two daughters, Madison and Maya, have been dancing with MAB for seven and five years, respectively, and will be in the performance again this year.
"My favorite part of doing The Nutcracker every year is seeing our dancers progress through roles of increasing difficulty as they mature," said Patrick Korstange, artistic director of Mid-Atlantic Ballet. "From the youngest angels to the leading roles of Snow Queen and Sugar Plum, who are usually high school seniors, I get to choreograph to the strengths of each dancer every year."
Professional guest artists join the students of MAB each year. This year, two former members of the renowned Parsons Dance Company based in New York City will join the cast. Miguel Quinones will dance the role of the Sugar Plum's cavalier, and Steven Vaughan will partner a Mid-Atlantic Ballet student in the Arabian duet.
"We welcome the addition of these wonderful guest artists to our productions because they enhance both the experience of the audience and the education of our dancers who share the stage with them," Korstange said.
"The UD staff at Mitchell Hall always do a superb job in support of our performances," Korstange said. "The former stage manager, Kyle Martin, has also been a guest performer and audience favorite, playing the Mouse King several times over the years."
In the spring, Mid-Atlantic Ballet and UD will be pairing up again to put on the fairy-tale inspired Ever After in Mitchell Hall.
Tickets for The Nutcracker are available online or by phone at 302-266-6362. Tickets will also be available at the door for each performance. 
Prices are $26 for adults, $20 for seniors and students age 13 and older, and $15 for children age 12 and younger. All seats in the balcony wings are $15. 
There is also a special ticket price of $12 for children under 12 at the 12:30 matinee show on Saturday. Reduced ticket prices are also available to families affiliated with Newark Day Nursery; call the studio for details.
In addition to its Mitchell Hall performances, Mid-Atlantic Ballet reaches out to the community by performing the second act of The Nutcracker at the Nemours/Alfred I. duPont Hospital for Children in Wilmington each holiday season. The company also provides free tickets to inner city youth through the Wilmington nonprofit group Urban Promise.
"It's our way of responding to the incredible support we've received from the community over the years," Korstange said. "Everyone should get to experience the joy of dance during the holidays."
Article by Beth Chajes
Nathan Uhlmann Photography