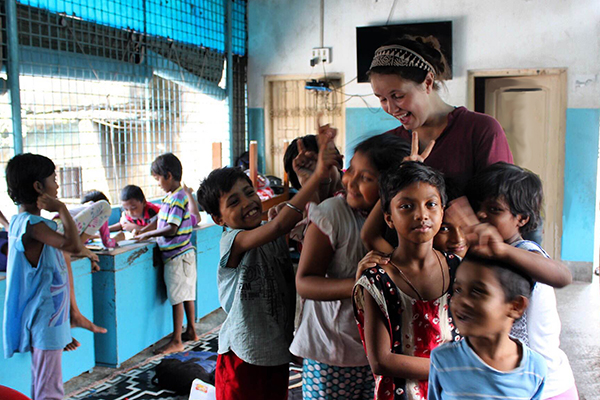 Saving women
UD student serves women, children during internship in India
11:46 a.m., Dec. 7, 2015--Prior to applying for her internship in India, University of Delaware student Olivia Blythe didn't have any set expectations. Nervous and unsure what she'd encounter, she went into it with one goal in mind — to gain a more global perspective in helping others. 
"It was just a leap of faith," said Blythe. "After reading the book, Half the Sky, I was inspired to work with a non-profit organization called New Light."
Fulbright awards
Three University of Delaware students and an alumna have received word this spring that they will travel abroad as part of the newest class of Fulbright Student Program award winners.
Peace Corps plans
Two University of Delaware students, John McCarron and Bridgette Spritz, have been selected as Peace Corps volunteers and will serve in Ghana and Rwanda.
Blythe, a junior who is double majoring in human services and women and gender studies, had participated in an internship in Indonesia during the summer of 2014, but it was nothing compared to her experience in India with the New Light program. 
"New Light is a nonprofit grassroots organization that works with sex workers and their children in the red light districts of India," said Blythe. "The purpose of the organization is to provide job opportunities for women and educate their children, free of cost, to help them toward a better life."
During her one month overseas from July 25 to Aug. 22, Blythe lived with an Indian host family as a member of the community and commuted to work every day. 
The first week was spent visiting shelters, including Creche Cum, the hub of New Light, where most of their offices are rooted. There is also a free clinic where community members can receive basic health care. Most importantly, the clinic supports contraception and facilitates conversations surrounding HIV.
The other shelters she visited supported specific populations: 
Soma Home (girls ages 14-18);
Jhinuk (boys and girls ages 3-6);
Khelaghar (boys ages 10-20);
The Dalit Center (boys and girls ages 5-15); and
Starfish (boys and girls ages 3-5).
Blythe worked closest with SonaTori, where the older girls lived. 
"Many of these girls have either turned to prostitution or were married off at a very young age," said Blythe. "When the non-government organizations (NGOs) recognize the women's living conditions, they pick up the women and try to help them." 
Unfortunately, many of these NGOs get shut down due to corruption. When this happens, the young women are once again thrown into the streets. 
"New Light rescues these girls and reaches out to the other members of their family. While in Kolkata, I was able to work with the children of the prostitutes in the red light district," said Blythe.
Trauma-informed yoga and meditation was one of the services she provided. Together, they practiced breathing exercises and different methods of calming down and refocusing. This was especially effective when the young women experienced triggering situations. 
Blythe also worked with the young boys of the Khelaghar Center. "I had gender roles conversation with them. We deconstructed the social norms of being a woman or a man in India and discussed how some of these social expectations limit who we can be and how we express ourselves." 
Blythe and the children created a poster about how human beings should be treated and what they deserved. "I had a wonderful time doing this exercise with the boys," said Blythe. "Afterward, they described women as kind, educated and strong, and men as gentle, smart and family oriented."
Her fondest memory occurred at the Dalit Center. She was working on an art project and had the children write letters to their future selves, sharing their goals. They wrote a future date on the letter, and their teacher agreed not to hand the letters back until that date.  
"Come to America," Blythe told them before she left. "I will be here for you." 
Although the internship was an inspiring experience, Blythe admitted it was also challenging. "The culture shock was overwhelming at times. But the internship itself far exceeded my expectations." 
"Having a local buy-in when creating a program or organization is crucial to its success," said Blythe. "Urmi Basu, the founder of New Light, is from Kolkata. That is what made working with New Light such a great experience, because it was a grass-roots program."
Although Blythe is now home following her adventure of a lifetime, she is still in contact with New Light, continuing to help them by building awareness. In addition, her sorority, Alpha Delta Pi, will be sponsoring a sister abroad to stay connected with the organization. 
"I hope to do service work for the rest of my life, and would love to return to India some day," Blythe said.
Article by Rebecca Gasperetti