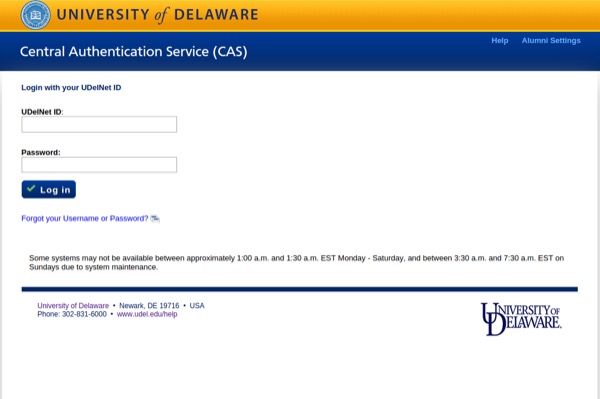 Google Apps logins
Log in to Google Apps at UD using CAS login screen as of Jan. 3
1:43 p.m., Dec. 17, 2015--Effective Sunday, Jan. 3, 2016, the custom University of Delaware Google Apps login screen will be replaced with a UD Central Authentication Service (CAS) login screen.
Members of the University community will continue to log in to Google Apps at UD (Google Mail, Calendar, Groups and Sites) using their UDelNet IDs and passwords. However, instead of providing their credentials on a custom login screen, UD community members will use a UD CAS login screen similar to the one used to log in to UDSIS, Web Forms, Retiree Benefits or other University of Delaware applications.
June 6: UDid It! Picnic
All UD faculty and staff members are invited to attend the annual UDid It! employee appreciation picnic, set from 11 a.m.-1:30 p.m., Monday, June 6, on The Green.
2FA protects you
If you are using two-factor authentication (2FA), even if a hacker has your password, your information is probably safe.
Users who have set their web browsers to save login credentials will need to log in with their UDelNet IDs and passwords once the change has been made.
Moving the login process for Google Apps at UD and other UD applications to CAS allows the University to move towards a standard security interface for all UD applications. In addition, UD CAS supports two-factor authentication, a more secure way of logging in to UD resources, thereby reducing the risk to University information.
For more information, contact the IT Support Center.