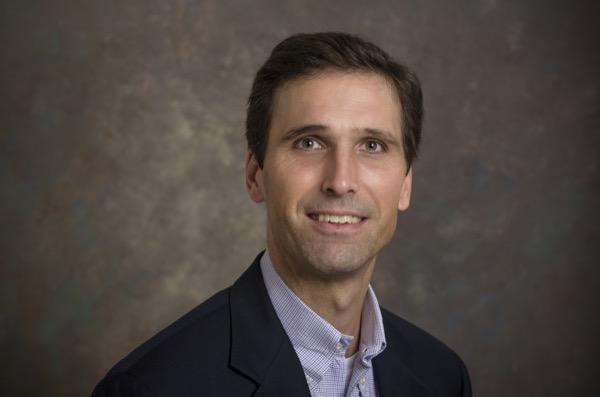 New fellow
Michael Shay honored by American Physical Society for pioneering research
11:28 a.m., Dec. 2, 2015--Michael Shay, professor in the University of Delaware's Department of Physics and Astronomy, has been elected a fellow of the American Physical Society (APS), an honor that places him among the top one-half of 1 percent of society members.
Shay, who joined the UD faculty in 2005, conducts research in plasma physics. His APS fellowship citation says that he was selected for the honor for his "pioneering contributions to understanding magnetic reconnection, including the nature of collisionless reconnection, and of plasma turbulence."
National Medal of Science
President Barack Obama recently presented the National Medal of Science to University of Delaware alumnus Rakesh Jain.
Warren Award
Rosalind Johnson, assistant dean for student success in the NUCLEUS Program in UD's College of Arts and Sciences, was presented the John Warren Excellence in Leadership and Service Award during a May 26 ceremony.
Plasma is a fourth state of matter, beyond solid, liquid or gas, and is found in the composition of stars, lightning and solar wind. Huge explosive events can occur in plasma when energy stored in magnetic fields is suddenly released through magnetic reconnection, which is Shay's primary research focus.
His work is applicable to a diverse number of occurrences, including solar flares, the Earth's magnetosphere, space weather and star formation.
This is a particularly exciting time for his research and for the field of magnetic reconnection, Shay said. In March, NASA launched its $850 million Magnetospheric Multiscale mission in which four satellites will spend two to three years investigating magnetic reconnection and how the sun's and the Earth's magnetic fields connect and disconnect.
The satellites will give scientists their first look at the inner workings of magnetic reconnection itself, rather than studying it through lab experiments or computer simulations. 
"In September and October, we started getting data, and it's just incredible," Shay said. "The measurements are 100 times faster than what we had before, and it's changed everything. It's really exciting to be part of this."
Shay collaborates with Tai Phan, of the University of California Berkeley's Space Sciences Laboratory. Phan focuses on the observational data gathered by the NASA mission, and Shay runs computer simulations, which Phan uses "to try to get the big picture," Shay said.
The mission is unusual for NASA because it focuses on studying not an object, like a planet, but a process — magnetic reconnection. 
"There are so many questions we hope to answer with this data, because it's unprecedented," said Shay, who expects to work with the data for many years. "It's like our hands have been tied behind our backs, and now they're freed."
A video of Shay and William Matthaeus, also a professor of physics at UD, discussing magnetic reconnection just before the NASA mission launched is available on the University of Delaware's YouTube channel.
Shay has received numerous awards recognizing his research, including a 2007 National Science Foundation Faculty Early Career Development Award. At UD, he received the 2008 Young Scholars Award (now named the Gerard J. Mangone Award) from the Francis Alison Society and the 2011 Excellence in Scholarship Award from the College of Arts and Sciences.
In 2013, he and Matthaeus were awarded a three-year, $1.2 million grant from NASA's Heliophysics Grand Challenges Program to explore how energy from the sun is transported across the heliosphere — an environment that surrounds the sun and planets in a giant teardrop shape that extends to the edge of the solar system.
Article by Ann Manser
Photo by Kathy F. Atkinson