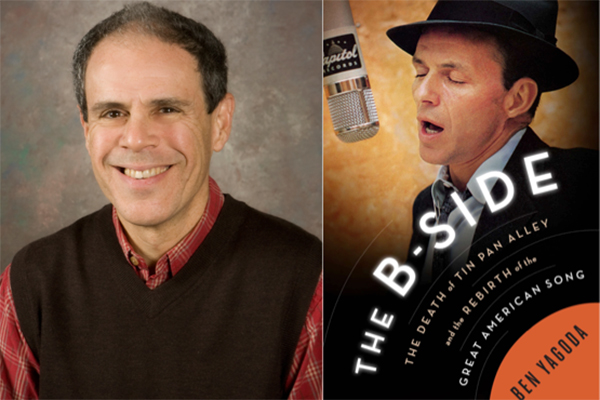 Sept. 15: Yagoda on 'The B-Side'
Yagoda to speak at University of Delaware Library about book 'The B-Side'
10:36 a.m., Aug. 5, 2015--The University of Delaware Library will sponsor a lecture by professor and author Ben Yagoda at 4:30 p.m., Tuesday, Sept. 15, in the Reading Room of the Morris Library. The program will be followed by a reception.
Yagoda, who teaches English and journalism in UD's Department of English, will speak about his recent book, The B-Side: The Death of Tin Pan Alley and the Rebirth of the Great American Song, which was published in January by Riverhead Books. 
June 5: Blue Hen 5K
University of Delaware graduates planning to attend Alumni Weekend are encouraged to register for the annual Blue Hen 5K walk and run, which will be held Sunday morning, June 5.
June 6-9: Food and culture series
The 20th annual June Lecture Series at the Osher Lifelong Learning Institute at UD in Wilmington will be held June 6-9. Titled 'June a la Carte,' this year's program focuses on great political documents, feminism, world politics and a Newark cuisine sampler.
The book provides information on broad musical trends through a series of intertwined stories about the songwriters and artists of the day. The B-Side also explores the cultural, social and economic changes that led to the decline of the Great American Songbook and the ascendancy of rock as the standard for the American pop song.
Yagoda started his career as an editor of The New Leader and went on to work for New Jersey Monthly and Philadelphia magazine. Subsequently he became a freelance writer for such publications as The New York Times, Newsweek and Rolling Stone. 
He has taught at UD since 1992 and helped to inaugurate the journalism minor. 
Yagoda has written numerous magazine articles, essays and reviews for The Chronicle of Higher Education, The New York Times Book Review and other publications. 
In addition to The B-Side, he has written a number of books including About Town: The New Yorker and the World It Made; Will Rogers: A Biography; How to Not Write Bad: The Most Common Writing Problems and the Best Ways to Avoid Them; Memoir: A History; When You Catch an Adjective, Kill It: The Parts of Speech, for Better and/or Worse; and The Art of Fact: A Historical Anthology of Literary Journalism, which was co-edited with Kevin Kerrane, also a professor in the English department at UD.
The printed invitation to the presentation was mailed recently. 
Interested persons may send an email to libraryrsvp@winsor.lib.udel.edu or call the Library Administration at 302-831-2231 to request a printed invitation.
This event is open to the public. Acceptances are encouraged and walk-ins are welcome. 
The UD Barnes and Noble Bookstore will sell The B-Side before and after the program for $28, and Yagoda is willing to sign copies of The B-Side during the reception.