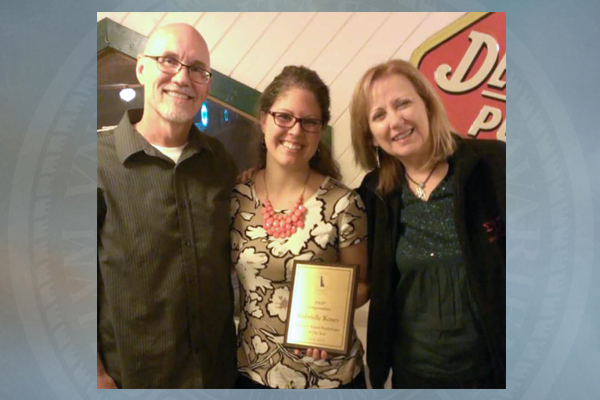 State honor
UD alumna Gabi Koury named Delaware's School Psychologist of the Year
10:25 a.m., Aug. 26, 2015--Gabi Koury, a graduate of the University of Delaware's College of Education and Human Development and a school psychologist in the Red Clay Consolidated School District, has been named School Psychologist of the Year by the Delaware Association of School Psychologists (DASP). 
The DASP award recognizes one school psychologist in the state who has excelled in their contribution to the school and students they serve. These contributions may include a commitment to student diversity, school or community collaboration, demonstrated leadership, and the development of students' cognitive, academic, social or life skills. 
National Medal of Science
President Barack Obama recently presented the National Medal of Science to University of Delaware alumnus Rakesh Jain.
Warren Award
Rosalind Johnson, assistant dean for student success in the NUCLEUS Program in UD's College of Arts and Sciences, was presented the John Warren Excellence in Leadership and Service Award during a May 26 ceremony.
Koury, who received her master's and educational specialist degree in school psychology from UD in 2012, serves about 950 students at Cab Calloway School of the Arts in Wilmington. She works with students on maintaining relationships and addressing conflicts, counsels students in crisis, helps teachers improve classroom dynamics, and shares resources with parents and colleagues. 
"At the middle school and high school age, I have a lot of discussions with students on how to maintain relationships with their friends or parents or how to work through conflict. Since Cab Calloway is a high-achieving school, we also have conversations on learning to cope with anxiety and time management," said Koury. "Sometimes students have questions that they're hesitant to ask, but there's no wrong question. It's all a teachable moment, and they can look to me to be honest when we have those conversations."
In addition to her role as a school psychologist, Koury acts as the official adviser of the Gay Straight Alliance (GSA), an initiative that she spearheaded at Cab Calloway. 
Affectionately named the "Free To Be You Club" by its members, the organization gives gay and lesbian students a safe space to socialize with supportive friends. The club hosts regular meetings and sponsors events, such as the annual individuality concert. 
Koury identifies the creation of the GSA as one of her most rewarding accomplishments. 
"When we first started, we only had a high school GSA club, but now we're leading the way because we're one of the only schools in Delaware with a middle school club," said Koury. "Starting the GSA hasn't been without obstacles, but the students are great. They all want to be inclusive and supportive of everyone."  
Koury said she was honored to receive the DASP award, especially since Joe Hocking, the assistant dean at Cab Calloway, nominated her. 
"I was so appreciative and thankful of my assistant principal's nomination. Nationally, there is a shortage in school psychologists, and sometimes administrators in Delaware may not fill a position when someone retires. I think our district is recognizing how valuable school psychologists are," said Koury. "In the fall, I'm going to have an intern from the UD school psychology program and I'm really excited to establish that relationship."
Khoury officially received the award in May at the annual DASP spring conference membership dinner. 
She plans to pursue a doctorate in educational leadership so that she can advocate for students at the district level or state level. 
Article by Jessica Henderson
Photo courtesy of Gabi Koury