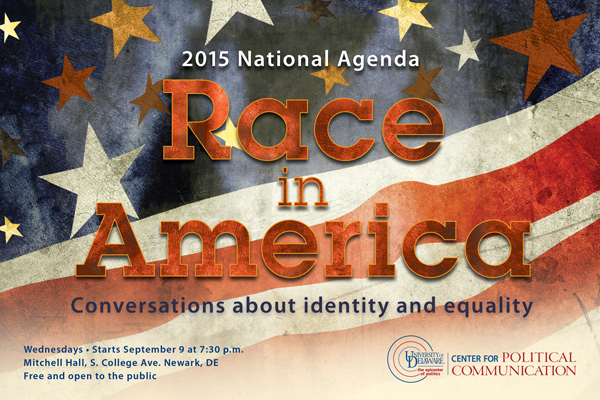 Conversations on race
2015 National Agenda series to look at 'Race in America'
2:10 p.m., Aug. 12, 2015--The University of Delaware Center for Political Communication has announced that its 2015 National Agenda series will focus on "Race in America," a topic that has dominated the headlines throughout the past year.
The series will include six speakers and four films designed to stimulate conversations about equality and identity, all scheduled at 7:30 p.m. on Wednesdays in Mitchell Hall on the UD campus in Newark. Presentations are free and open to the public.
From graduates, faculty
As it neared time for the processional to open the University of Delaware Commencement ceremonies, graduating students and faculty members shared their feelings about what the event means to them.
Doctoral hooding
It was a day of triumph, cheers and collective relief as more than 160 students from 21 nations participated in the University of Delaware's Doctoral Hooding Convocation held Friday morning on The Green.
"A year after Michael Brown's death in Ferguson, Missouri, the dialogue about race in this country has escalated, and it is often rife with tension, volatility and violence. Yet silence on the issue of race in America will not solve the problem," said Lindsay Hoffman, associate professor in UD's Department of Communication and associate director of the Center for Political Communication, who will moderate the series.
"We need to be able to talk about these things with open minds and open hearts," Hoffman said. "That's why the Center for Political Communication is prioritizing this important topic in our National Agenda series this fall. We want to encourage the University community to engage in forward-thinking and respectful conversations about race in this country and on this campus."
The National Agenda 2015 speaker series will open Sept. 9 with veteran CBS News correspondent Bill Plante and will close Nov. 18 with Redditt Hudson, former St. Louis police officer and co-founder of the National Coalition of Law Enforcement for Justice, Reform and Accountability. 
"We've garnered some of the nation's leading voices on this topic," Hoffman said. "Our first speaker, Bill Plante, is a CBS correspondent who, as a young reporter, covered the historic five-day march for voting rights from Selma to Montgomery, Alabama. His perspective will be a good jumping-off point for understanding why race continues to be such a divisive topic 50 years after the civil rights movement."
Hoffman noted that the second speaker "is an activist who, before Aug. 9, 2014 -- the date that Michael Brown was killed by a police officer -- was not an protester. Now, Netta Elzie is a prominent voice for the #BlackLivesMatter movement on social media, and has been featured in the Atlantic, the Huffington Post and the Guardian."
Being held in conjunction with the speaker series will be a film series, also scheduled at 7:30 p.m. Wednesdays in Mitchell Hall. "It, too, will cover the issue of race in America, and includes four films that range from biting satire to historical drama to documentary," Hoffman said.
The film series will begin Sept. 16 with a screening of Justin Simien's Dear White People.
"Given the historic nature of this institution, it is incumbent upon us to provide a space for the conversation about race, to recognize how the past impacts the present, and to do so in such a way that is inclusive and respectful," Hoffman said.
The National Agenda 2015 "Race in America: Conversations about Identity and Equality" schedule is as follows:
• Sept. 9: Bill Plante, CBS News correspondent who covered the civil rights movement, including the Rev. Dr. Martin Luther King Jr.'s march from Selma to Montgomery, Alabama, in 1965. Plante returned to Selma in March of this year to cover the 50th anniversary celebration of the historic march for voting rights.
• Sept. 16: Screening of the film Dear White People, released in 2014 as Justin Simien's first full-length feature. The satire explores racial identity in "post-racial" America while weaving a universal story of forging one's unique path in the world. Simien won the best first screenplay award from the 2015 Spirit Awards and the U.S. dramatic special jury award for breakthrough talent from the 2014 Sundance Film Festival.
• Sept. 30: Johnetta (Netta) Elzie, Ferguson, Missouri, activist and field organizer with Amnesty International USA. Elzie has become an international storyteller for the Black Lives Matter movement. Since she attended her first protest in Ferguson last August, she has used Twitter to create a loyal following. She was listed on Fortune magazine's top 50 world leaders and Time magazine's 2014 person of the year edition.
• Oct. 7: Screening of the film Mississippi Burning, the 1988 crime thriller based on the 1964 murders of three civil rights activists in Mississippi. The film stars Gene Hackman and Willem Dafoe as FBI investigators who travel to Jessup County when the civil rights workers go missing. It won the best filmmaking and best cinematography awards at the 1989 Academy Awards.
• Oct. 14: Peter Bailey, Miami journalist and creator of the critically acclaimed docu-series NiteCap with Peter Bailey. Bailey has interviewed entertainers like Waka Flocka, as well as Wyclef Jean, 50 Cent and Ice T. He began NiteCap after penning Trick Daddy's memoir, Magic City: Trials of a Native Son.
• Oct. 21: Maz Jobrani, comedian and author of I'm Not a Terrorist, But I've Played One on TV. Jobrani is a founding member of the Axis of Evil Comedy Tour and has had two Showtime specials. He performs stand-up all over the world and his best-selling book, I'm Not a Terrorist, But I've Played One on TV, was published in 2015 and will be available for purchase.
• Oct. 28: Screening of the film Bamboozled, the 2000 work by Spike Lee about television executives who produce a modern version of a minstrel show with racist imagery and language. To their horror, the show becomes a huge success, leading to a tragic downfall for the creators.
• Nov. 4: Keith Knight, highly regarded political cartoonist and creator of three popular comic strips: the Knight Life, (th)ink, and the K Chronicles. His art has appeared in publications worldwide, including the Washington Post, Salon.com and Ebony. His talk features his artwork over the last 20 years and is titled "They Shoot Black People, Don't They?"
• Nov. 11: Screening of the film The People's Report, and a question-and-answer session with the director, Yasser Arafat Payne, UD associate professor in the Department of Black American Studies. The People's Report is an ethnographic community needs assessment of two of Wilmington, Delaware's oldest and most violent neighborhoods, Eastside and Southbridge. The film documents community residents from these neighborhoods who have experience in the streets and/or criminal justice system to examine the impact of community violence.
• Nov. 18: Reddit Hudson, former St. Louis police officer and co-founder of the National Coalition of Law Enforcement for Justice, Reform and Accountability. Hudson left the force in 1999 to address systemic problems in the criminal justice system. He is the author of Suffering in Silence, an investigative report that cataloged human rights abuses in St. Louis city jails.
About National Agenda
National Agenda was established by Ralph J. Begleiter, former CNN world affairs correspondent and professor in the Department of Communication who created and was the first director of UD's Center for Political Communication. 
Through the years, it has looked at a range of key American political issues, from corporate influence to the growing importance of digital campaigs.
"The success of this series stands as a testament to the hard work of Ralph," Hoffman said. "He brought in an abundance of talented and respected speakers, and used his prestigious journalism career to bring important and engaging conversations to UD." 
National Agenda 2015 is supported by the College of Arts and Sciences, the Office of the Provost, the Center for the Study of Diversity and the William P. Frank Foundation of Delaware.