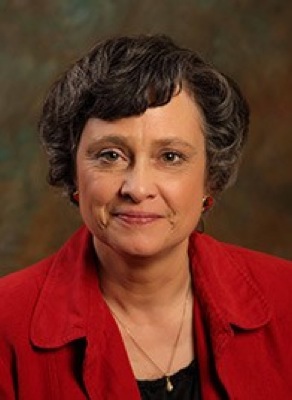 Nurse practitioner leadership
Conaty-Buck selected for national nurse practitioner leadership program
9:30 a.m., Aug. 20, 2015--Susan Conaty-Buck, assistant professor in the University of Delaware's School of Nursing, is one of 12 individuals from across the nation selected by the American Association of Nurse Practitioners (AANP) for the second cohort of its AANP Leadership Program.
According to the AANP, the "12-month program is designed to develop the next generation of NP leaders through a variety of initiatives that will provide a broad vision of the NP role in the current and future health care environment. Those selected for the program are currently serving in clinical, administrative or educational roles and have demonstrated the potential to assume roles of increasing national leadership both within AANP and throughout the nation." 
National Medal of Science
President Barack Obama recently presented the National Medal of Science to University of Delaware alumnus Rakesh Jain.
Warren Award
Rosalind Johnson, assistant dean for student success in the NUCLEUS Program in UD's College of Arts and Sciences, was presented the John Warren Excellence in Leadership and Service Award during a May 26 ceremony.
The AANP Leadership Program features online and in-person sessions with key national healthcare leaders who work with participants to develop innovative leadership projects across the country.
AANP represents more than 200,000 members across the country including individuals and organizations, "providing a unified networking platform and advocating for NPs as providers of high-quality, cost-effective, comprehensive, patient-centered and personalized health care." 
"It is a great honor to be selected to participate in this program," Conaty-Buck said. "I look forward to bringing knowledge gained to the School of Nursing and to our nurse practitioner students, encouraging greater awareness of the state and national challenges and opportunities the students will encounter as they graduate and work to improve the delivery of quality healthcare to their patients." 
About Susan Conaty-Buck
A certified family nurse practitioner, Conaty-Buck joined the UD faculty in January 2015.  She practices at UD's Nurse Managed Health Center (NMHC) and teaches in the School of Nursing Nurse Practitioner Program, preparing students for careers as primary care NPs. She is currently working with others in the department on a proposal to launch the school's Doctor of Nursing Practice degree program. 
Conaty-Buck is an informatics nurse researcher whose work focuses on promoting safe sharing of healthcare information between providers and patients, recommending quality technology options to support patients' efforts to improve their health and wellness, and promoting informatics solutions to help patients receive access to care.  She is a national lecturer on the safe use of electronic medical applications. 
Her current projects include developing a course in healthcare informatics for UD students and increasing communication and educational opportunities for patients at the UD NMHC using the online Patient Portal system.
Conaty-Buck received her doctor of nursing practice and master's in nursing science degrees from the University of Virginia and a bachelor's degree in nursing science from James Madison University. 
She is a member of the AANP Clinical Practice Committee and its Research Committee, the Delaware Coalition of Nurse Practitioners, the Delaware Public Health Association, the Delaware Medical Reserve Corps and the National Organization of Nurse Practitioner Faculties. She is also a grants reviewer for the Office of the National Coordinator for Health Information Technology (ONC).