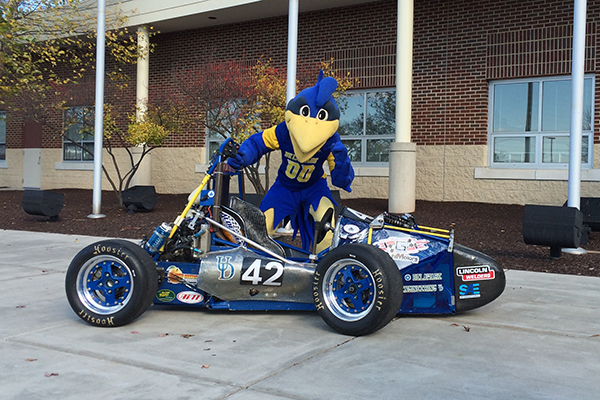 Racing to DC
UD team revs up USA Science and Engineering Festival
4:23 p.m., April 14, 2016--Youngsters are bound to speed up as they near the University of Delaware's booth at the USA Science and Engineering Festival, April 16-17, in Washington, D.C. 
After all, a Formula One race car is a pretty snazzy vehicle to get a closeup look at — and kids can even get their picture taken behind the wheel. What's equally impressive is that UD students built the racer, which weighs only 520 pounds, can go from 0 to 60 miles per hour in about four seconds, and is powered by a four-cylinder motorcycle engine. 
Chronic wounds
UD's Millicent Sullivan and Kristi Kiick have received a $1.4 million grant from the National Institutes of Health for research that could provide a new approach to the treatment of chronic wounds.
Prof. Heck's legacy
The American Chemical Society is highlighting the legacy of the late Nobel laureate Richard Heck, the Willis F. Harrington Professor Emeritus of Chemistry at the University of Delaware with a digital tribute on its publications website.
The students, who are members of Blue Hen Racing, UD's chapter of the Society of Automotive Engineers, will introduce visitors to the car, which includes the first parts they've made for one of these vehicles using 3D printing — for the air intake. They also will have a gearbox on hand from an old pickup for a deeper look into the transmission, with spinning of the input and output shafts encouraged. 
"We like doing outreach events," said Rob Heebner, a UD senior from Skillman, New Jersey, majoring in mechanical engineering, and president of Blue Hen Racing. "It's fun showing kids and other people what's possible through a team and through applying our engineering knowledge."
Heebner joined the team as a freshman. Each year, the team has built a Formula One car, investing lots of hours starting in September and finishing by spring break, with troubleshooting in between and afterward. 
The race car is typically entered into the intercollegiate design competition held in June in Nebraska. That won't happen this year due to some club transitions, Heebner said, but the UD team is expected to be back in racing form next year. 
Recently, a second team within the club has emerged, with an equally cool focus on electric vehicles. 
Besides attracting public interest in science through outreach events like this national festival, Heebner's time and effort working on the racecar is paying off in other places. He already has a job lined up after he graduates from UD this May — with Ford Motor Company.
"This is a really great program and project — I can list off the people getting jobs because of it," Heebner says. 
Other cars of the toy ride-on variety will be in motion at the booth, thanks to UD's GoBabyGo! program. Led by Prof. Cole Galloway and his team, the program focuses on collaborating with parents, clinicians, students and community members around the world to help modify these off-the-shelf cars for kids with disabilities. The National Science Foundation recently showcased the Galloway team's work in this video at the Smithsonian's Lemelson Center Spark!Lab.
Touted as the largest and only national science festival in the United States, the USA Science and Engineering Festival is expected to welcome hundreds of thousands of people to the Walter E.  Washington Convention Center for a day of fun immersed in science. More than 3,000 hands-on activities will be available in addition to stage shows and visits with science celebrities, from a live downlink with astronauts at the International Space Station to a session with Schmitty the Weather Dog.
Article by Tracey Bryant
Photo by Rob Heebner