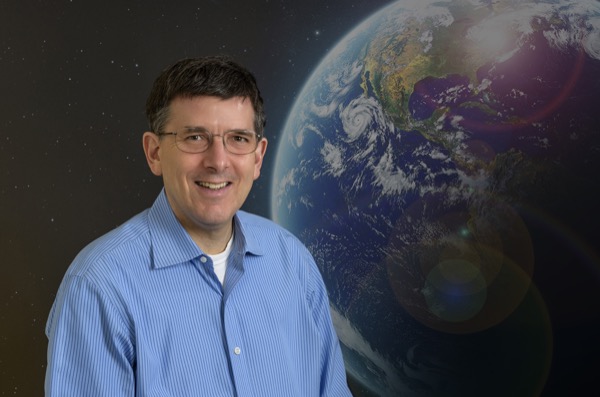 Earth Day then and now
Historian reflects on how 1970 event empowered a generation
8:51 a.m., April 18, 2016--Adam Rome, an environmental historian at the University of Delaware, wrote the book on Earth Day.
His The Genius of Earth Day: How a 1970 Teach-In Unexpectedly Made the First Green Generation, published in 2013, tells the story of what he calls "the most famous little-known event in modern American history." 
'Resilience Engineering'
The University of Delaware's Nii Attoh-Okine recently published a new book with Cambridge University Press, "Resilience Engineering: Models and Analysis."
Reviresco June run
UD ROTC cadets will run from New York City to Miami this month to raise awareness about veterans' affairs.
Everyone has heard of Earth Day, celebrated annually since 1970 on April 22, but many people today are unfamiliar with its origins and impact.
Rome, the Unidel Helen Gouldner Chair for the Environment at UD, has a joint appointment in the departments of History and English and is co-director of the environmental humanities initiative in the College of Arts and Sciences. Here, he shares some thoughts and historical perspective as the 46th Earth Day celebration approaches.
Q. Why was the first Earth Day transformative?
Rome: In 1970, Earth Day drew more participants by far than the biggest civil-rights or antiwar demonstrations of the 1960s. It was celebrated almost everywhere, in roughly 10,000 public schools, 1,500 universities and hundreds of communities. The turnout was huge, and it got incredible coverage in the media.
The huge crowds made clear that the nation needed to get serious about addressing environmental problems. But the first Earth Day wasn't just a symbol — it empowered a generation of activists.
People who cared about the environment spoke at Earth Day events all over the country, and for many it was the first time that they had a large audience listening to their concerns and ideas. It gave them a platform.
The vision for Earth Day came from Sen. Gaylord Nelson, a Wisconsin Democrat, but he left the organizing up to local groups. That was ingenious because it allowed people to take ownership of the event in their own communities. Many of those local organizers worked for months on the event, and many were inspired to devote their lives to the environmental cause. That was huge!
Q. How has the annual event changed over the years?
Rome: You can't really get a sense of what the first Earth Day was like by experiencing how it's celebrated today. It's still marked as an important event in many places, but a lot of events now are more like trade shows, displaying products and resources focused on environmental issues. Some have corporate sponsors.
The first Earth Day was much more political than it is now, not in terms of partisan politics but because the events were so action-oriented. And action was certainly needed then — the air was polluted, the water was polluted, and there was no Environmental Protection Agency.
The only time since 1970 that Earth Day was really celebrated nationally, even internationally, was on the 20th anniversary in 1990. It was a big event that year, but it didn't have the transformative power of the first one. On the other hand, many places today mark Earth Week or Earth Month in April, and there's a great deal of focus on environmental sustainability year-round. Earth Day itself still gets media coverage every year, and people do pay attention.
Q. Has Earth Day outlived its original purpose?
Rome: I think it's unreasonable to expect that Earth Day events now and in the future will have the same impact as the first one. In 1970, there were tens of thousands of people in Philadelphia's Fairmount Park, spending all day listening to speakers and discussing issues. Hardly anyone does huge events like that anymore.
Even Gaylord Nelson knew that the first Earth Day couldn't be repeated. He initially saw Earth Day as a one-off, and then, when it was so enormously successful, he called for people to set aside a time every year to assess our progress: How much have we done? And what do we still need to do to protect our environment?
And look at how things have changed. At the University of Delaware this year, two of the Earth Month events are panel discussions for students to learn about "green jobs" and career opportunities in the environmental field. In 1970, those kinds of professions just didn't exist. If you wanted to be an environmental lawyer or an environmental journalist, you had to make your own path.
Q. How should we think about Earth Day this year and in the future?
Rome: As I researched the first Earth Day, one of the most surprising things was realizing how important it was for people to just take the time to think and talk about these issues, to ask the hard questions. A lot of the discussions really were soul-searching.
That kind of discussion isn't much a part of Earth Day today. But it could be. We've made progress in many ways, but we still face great challenges, and taking the time to talk about them together, in a formal setting, would be very powerful.
Article by Ann Manser
Photo by Kathy F. Atkinson