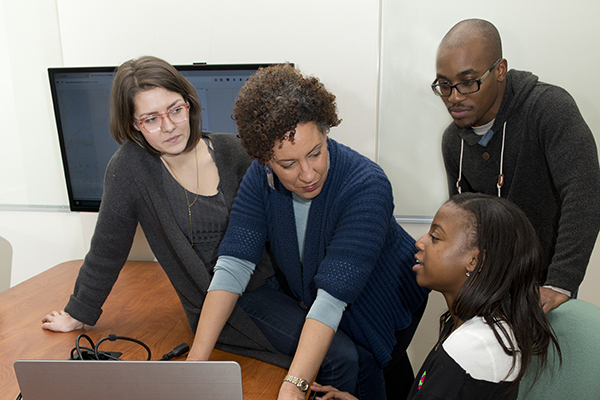 Digital humanities
NEH grant awarded to support Colored Conventions Project
10:06 a.m., April 14, 2016--The Colored Conventions Project (CCP), hosted at the University of Delaware, has been awarded a highly coveted grant from the National Endowment for the Humanities' (NEH) Office of Digital Humanities.
CCP is an interdisciplinary public humanities project that brings decades of early African American organizing for legal, educational and labor justice to digital life at ColoredConventions.org.
From graduates, faculty
As it neared time for the processional to open the University of Delaware Commencement ceremonies, graduating students and faculty members shared their feelings about what the event means to them.
Doctoral hooding
It was a day of triumph, cheers and collective relief as more than 160 students from 21 nations participated in the University of Delaware's Doctoral Hooding Convocation held Friday morning on The Green.
This $75,000 grant will support CCP as it expands its collaborative model, creating digital exhibits with scholars, national teaching partners and repositories across the country to display the extraordinary history of black conventions attended by thousands of African Americans from 1830 through the 1890s.
"The University of Delaware is delighted to host a national project used by so many Americans and citizens of the world," UD Provost Domenico Grasso said. "We are equally proud that it engages students and scholars from varied fields of study fusing teaching, learning, research and scholarship for such wide audiences." 
The NEH provides awards to outstanding proposals examined by independent reviewers drawn from across the nation. In its last five competitions, the Digital Humanities Start-up Grants program has funded only 14 percent of the applicants.
"This prestigious award opens up exciting new possibilities for the Colored Conventions Project," said faculty director P. Gabrielle Foreman, the Ned B. Allen Professor of English and professor of history and black American studies at UD. "It will allow us to work collectively to link the buried history of black-led organizing to ongoing struggles for access and justice while adding to the diversity of those who create public histories in digital spaces." 
CCP identifies and transcribes hundreds of proceedings from the Colored Convention movement, making these rare documents available in one place for the first time.
The UD Library has been CCP's key partner. Scholars, library professionals and students use the site regularly. More than 1,000 university students from across the country have engaged in original research based on the CCP's curriculum, and students in Ohio and California are creating exhibits that will soon be featured on the site. 
The Colored Conventions Project is proud that the broader public has been active in the project's growth, Foreman said. Members of the African Methodist Episcopal (AME) Church, which hosted the first convention in 1830, have transcribed hundreds of pages to make them fully searchable. One-of-a-kind and previously unknown proceedings arrive from curators and independent researchers in the United States and abroad.
"The College of Arts and Sciences is pleased that the NEH has chosen to recognize this important project," George Watson, dean of the college, said. "Thanks to Prof. Foreman's leadership, the Colored Conventions Project is a wonderful example of the transformative scholarship that can occur when students, staff, faculty and an engaged public work together to tell an important story."
NEH Chairman William D. Adams has said that the organization "provides support for projects across America that preserve our heritage, promote scholarly discoveries and make the best of America's humanities ideas available to all."
The CCP's goal, Foreman said, is to include a wide and diverse group in preserving and critically engaging our buried histories -- and to recover a movement for racial, economic and educational justice that resonates in our own time.
Photo by Lane McLaughlin