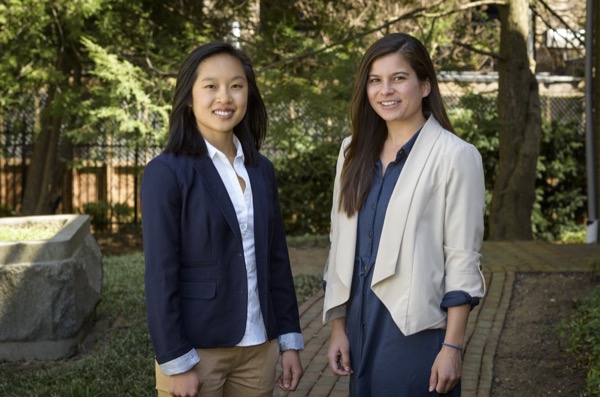 Goldwater Scholars
UD students Victoria Muir, Hannah Wastyk named Goldwater Scholars
3:05 p.m., April 19, 2016--Two University of Delaware students have earned scholarships from the Barry M. Goldwater Scholarship and Excellence in Education Foundation, considered the premier undergraduate award of its kind. 
Victoria Muir, an Honors Program student from Hockessin, Delaware, with a double major in chemical engineering and biological sciences, with a cellular and molecular biology and genetics concentration, and Hannah Wastyk, an Honors Program student from Palmyra, Pennsylvania, majoring in chemistry and biochemistry, were among 252 Goldwater Scholars selected this year from 415 institutions nationwide. Both students are Eugene du Pont Distinguished Memorial Scholars, funded by the Unidel Foundation.
National Medal of Science
President Barack Obama recently presented the National Medal of Science to University of Delaware alumnus Rakesh Jain.
Warren Award
Rosalind Johnson, assistant dean for student success in the NUCLEUS Program in UD's College of Arts and Sciences, was presented the John Warren Excellence in Leadership and Service Award during a May 26 ceremony.
The scholarship program, which honors the late senator from Arizona, was designed to foster and encourage outstanding students to pursue careers in the fields of mathematics, the natural sciences and engineering.
Goal in academia
Muir, a sophomore, plans to earn a doctorate in chemical engineering and complete a post-doctoral fellowship at a biomedical institution such as the National Institutes of Health, ultimately becoming a professor in the field. 
"I would like to research nanocarriers for drug delivery, specifically working toward options for personalized cancer treatment," Muir said. 
Advisers to Muir include Thomas H. Epps, III, the Thomas and Kipp Gutshall Associate Professor of Chemical and Biomolecular Engineering with a joint appointment in materials science and engineering, and Millicent O. Sullivan, associate professor of chemical and biomolecular engineering.
"My research aims are to optimize the polymer composition of siRNA (short interfering) nanocarriers and create an optimized dosing schedule for siRNA delivery," Muir said. "This is done by combining laboratory experiments with mass action kinetic modeling of the polymer system."  
Muir credits teachers and mentors who have sparked her interest in the sciences, including Charter School of Wilmington biology teacher Rose Lounsbury and UD graduate students Jill Emerson and Chad Greco, who provided an introduction into chemical engineering and its potential to solve a large diversity of potential problems. 
"I am extremely grateful for having had the opportunity to be part of professors Epps' and Sullivan's research groups," Muir said. "Seeing their work and how much they enjoy being researchers, educators and collaborators significantly influenced my decision to become a professor."
Muir said her greatest source of inspiration is her mother.
"She challenges me to pursue my dreams, no matter how lofty they can be," Muir said. "She has taught me that the most important thing is to have a positive and happy outlook on life." 
Teaching and research
Wastyk, a junior who is an Ethel and Donald Hofmann Scholar, said she hopes to pursue a doctoral degree in biological engineering, with a focus on immunotherapeutics, followed by a teaching and research career.
"The human immune system fascinates me, and my main research interests are the identification of disease targets and development of therapeutic immune responses against them," Wastyk said. "Within this field, I would be able to conduct interdisciplinary research aimed at understanding the protective mechanism of our immune system using approaches grounded in the fundamentals of biology and biochemistry, to aid in effective biopharmaceutical design and development." 
Wastyk's adviser is Catherine Grimes, assistant professor of chemistry and biochemistry and biological sciences.
"I am currently conducting independent research on Crohn's disease and the biochemical interactions between its mutant proteins with chaperone molecule Hsp70," Wastyk said. "Understanding Hsp70's action and determining a method of control in Crohn's disease could also be extended to stabilize a large number of other disease-relevant mutated proteins for focused and characterized treatment."
As a high school student, Wastyk worked at the Penn State Hershey Melanoma Center at the Penn State Hershey Cancer Institute under Gavin Robertson. Her mentor was Greg Kardos, then a graduate student. 
"Greg Kardos had a very large impact on my passion for research and my current career objectives," Wastyk said. "I consider him to be one of the most influential people in my life. He placed a lot of faith in me by letting conduct experiments on my own and learn through experience." 
In the summer after her freshman year at UD, Wastyk worked in a bioengineering laboratory at Dartmouth College, under Margie Ackerman and Casey Hua. 
"This was my first experience with engineering, and it opened a new side of research that I had never considered or experienced before," Wastyk said. "I worked on the construction of computationally designed antibodies specific to cancer cells. It was actually because of this experience that I would like to expand my knowledge in biochemistry to include molecular engineering applications." 
Wastyk added that her greatest models and role models at UD include Grimes and Vishnu Mohanan, a former graduate student who pushed her to think outside the box and to think like a researcher.
Immediately drawn to professor Grimes' laboratory while on a tour of the chemistry building during orientation week, Wastyk considers Grimes to be dynamic, driven and extremely smart, and a great inspiration as a role model and woman in science. 
"Problem-based learning courses have been the most transformative in my academic experience, so I would like to try and implement this into the classroom, as well," Wastyk said. "I am extremely grateful to all the mentors in my research experience thus far, as they have had a large part in shaping who I am today as a scientist and a person."
Wastyk also said that UD has given her both breadth and depth in academia, including the opportunity to take classes ranging from biochemical engineering to Chinese philosophy. 
"I am always looking to learn new ways of approaching problems," Wastyk said. "I think the chemistry and biochemistry department at UD especially fosters creative thinking." 
About the Barry Goldwater Scholarship and Excellence in Education Program
The one- and two-year scholarships cover the cost of tuition, fees, books, and room and board up to a maximum of $7,500 per year.
Goldwater Scholars have very impressive academic qualifications that have garnered the attention of prestigious post-graduate fellowship programs. Recent Goldwater Scholars have been awarded 86 Rhodes Scholarships, 125 Marshall Awards, 134 Churchill Scholarships, and numerous other distinguished fellowships such as the National Science Foundation Graduate Fellowships.
The Goldwater Foundation is a federally endowed agency established by Public Law 99-661 on Nov. 14, 1986. The Scholarship Program honoring the late U.S. Sen. Barry Goldwater was designed to foster and encourage outstanding students to pursue careers in the fields of mathematics, the natural sciences and engineering. The Goldwater Scholarship is the premier undergraduate award of its type in these fields.
Since its first award in 1989, the foundation has bestowed 7,680 scholarships worth approximately $48 million. The trustees plan to award about 260 scholarships for the 2017-18 academic year.
Article by Jerry Rhodes
Photo by Kathy F. Atkinson