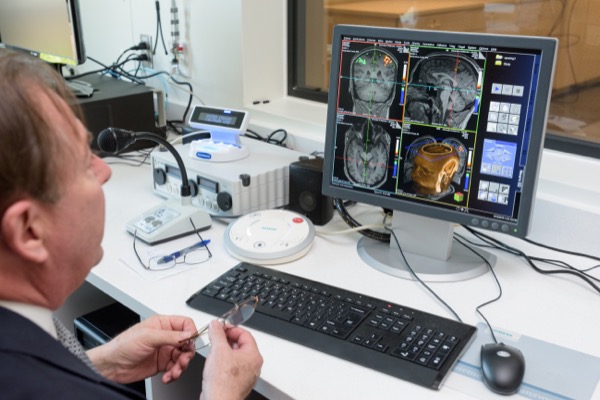 Brain imaging center
New faculty researchers to join Department of Psychological and Brain Sciences
4:16 p.m., April 19, 2016--The University of Delaware's new imaging center offers state-of-the-art technology for analyzing the workings of the brain, measuring blood flow and mapping the activity of neurons through magnetic resonance imaging (MRI).
But while scientists use the Center for Biomedical and Brain Imaging's functional MRI (fMRI) instrument to study the brain in action, they know that it's also a tool to help answer some basic questions about how and why humans think and act the way we do.
Chronic wounds
UD's Millicent Sullivan and Kristi Kiick have received a $1.4 million grant from the National Institutes of Health for research that could provide a new approach to the treatment of chronic wounds.
Prof. Heck's legacy
The American Chemical Society is highlighting the legacy of the late Nobel laureate Richard Heck, the Willis F. Harrington Professor Emeritus of Chemistry at the University of Delaware with a digital tribute on its publications website.
For three of those researchers, all of whom will be joining UD's Department of Psychological and Brain Sciences faculty next semester, the questions they are exploring include:
Why do some people engage in risky, impulsive and even self-destructive behavior?
Should you trust your first impressions of people?
What causes some adolescents to develop anxiety and mood disorders?
Why do some combat veterans experience post-traumatic stress flashbacks while others do not?
One of the researchers, Jeffrey Spielberg, currently an assistant professor of psychiatry at Boston University School of Medicine, called MRI "an amazing tool that provides us with an increasingly complex and nuanced window into psychological and neural processes."
MRI, he said, doesn't replace traditional methods of psychological research, such as observing behavior or having people self-report their situations.
Instead, "MRI provides us with a unique source of data which can be used in combination with other methods to triangulate in on the particular processes of interest," Spielberg said. "This integration across methods is often overlooked when MRI is discussed, but it is a fundamental strength of MRI that we can leverage these different sources of data against one another."
Spielberg's research focuses on understanding disturbances in brain networks that cause or sustain anxiety and mood disorders. At UD, much of his work will deal with adolescents, who are an age when many of these disorders develop.
Spielberg also has conducted research with combat veterans and post-traumatic stress disorder, finding that what is commonly called PTSD is likely to consist of clusters of symptoms that vary from person to person.
Also joining UD next semester from Boston University's School of Medicine is Naomi Sadeh, assistant professor of psychiatry, whose latest research project investigates genetic risks for certain types of behavior.
"I am currently working on understanding what puts some individuals at greater risk for impulsive and self-destructive behaviors, like violence, substance use and suicidal behavior," she said. 
In a recent study, she said, she found that genetic risk for alcohol and substance use disorders was associated with disrupted connectivity in a network of brain regions involved in regulating strong emotions and controlling impulsive urges. 
"One benefit of MRI in the research that I do is that it can be used to identify groups of people who show similar outward symptoms, but actually have different causal pathways, which can be reflected in brain differences," Sadeh said. The results of such findings can allow treatments to be tailored to individual situations, she said.
MRI also has the benefit of enabling researchers to use their expanding knowledge about the brain to look at underlying psychological processes, said Peter Mende-Siedlecki, a postdoctoral associate at New York University's Department of Psychology who will be joining the UD faculty. 
"We have the ability [with MRI as a tool] to put multiple neighboring fields into direct conversation with each other — using social psychology to ground our approach to the brain, and correspondingly, to inform social psychological theories about behavior through their neurobiological bases," he said.
Mende-Siedlecki's research focuses on the way people form impressions of others based on such factors as their appearance, faults and virtues — and on how those impressions are constantly being revised due to new information. He makes use of cognitive neuroscience, experimental social psychology and perceptual psychophysics to investigate how our impressions change over time.
"Other people are boundless sources of social information," he said. "While we're capable of forming impressions very quickly, based upon incredibly thin slices of experience, these thin-slices don't always tell the whole story."
To see an animated summary of Mende-Siedlecki's research on first impressions, explained by him with animation by TOGETHER, visit this TED-Ed ("Lessons Worth Sharing") website. 
Article by Ann Manser
Photo by Evan Krape