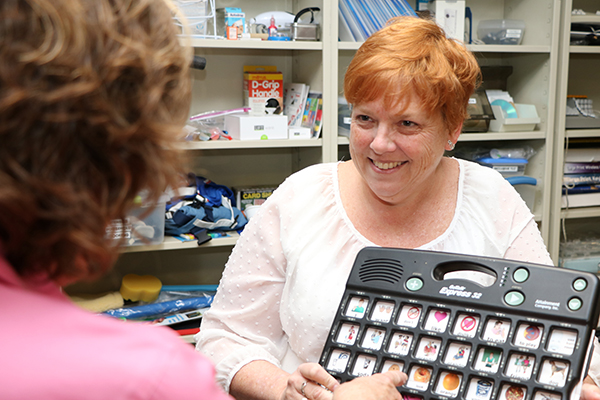 May 3: CDS session on assistive technology
From laptops to grips, assistive technology is free and within reach at UD
8:17 a.m., April 18, 2016--At Nemours/Alfred I. duPont Hospital for Children in Wilmington, speech-language pathologist Dick Lytton connects the youngsters he evaluates with assistive technology (AT) options that meet their needs. 
Also in Wilmington, hairstylist Melissa Stansell advocates on behalf of her school-age son with autism to see that he gets the communication accommodations he requires in the classroom. 
June 5: Blue Hen 5K
University of Delaware graduates planning to attend Alumni Weekend are encouraged to register for the annual Blue Hen 5K walk and run, which will be held Sunday morning, June 5.
June 6-9: Food and culture series
The 20th annual June Lecture Series at the Osher Lifelong Learning Institute at UD in Wilmington will be held June 6-9. Titled 'June a la Carte,' this year's program focuses on great political documents, feminism, world politics and a Newark cuisine sampler.
Both are customers of the Delaware Assistive Technology Initiative's (DATI) Assistive Technology Resource Centers, which are administered by the University of Delaware's Center for Disabilities Studies. 
These three centers, or libraries, collectively house more than 1,900 unique items of assistive technology, from laptops and tablets to elastic shoelaces and doorknob grips. 
Members of the public can try them out for free, and can learn from center staff about financial aid options, should they wish to purchase the AT they sample. 
DATI's collection is "the most comprehensive in the region," says Beth Mineo, CDS and DATI director. "It serves people of any age and people with any disability. The collection, which we work to keep current, is the only one of its kind where you can literally walk out the door with anything at no cost – and the only eligibility requirement is Delaware residency."    
Professionals and members of the public can learn more about the AT resource centers at a May 3 Lunchtime Learning session at CDS. It will be held from noon-1 p.m., and registration is required.
Lytton notes that professionals can sign out a device at the libraries and, rather than merely making device recommendations for a patient, actually place the device into the hands of a family for a trial use period. 
Customers like Stansell can take part in equipment demonstrations and consult with DATI's team of AT specialists. "They helped me to wrap my mind around what AT looks like and how my son could use it" in the schools, she says.
For more information about the upcoming Lunchtime Learning session, view the event flyer or call Kristen Fraley at 302-831-3632.