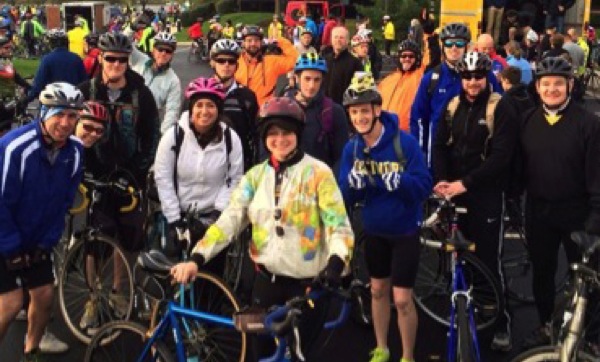 Blue Hen Veterans ride again
Two-day bike ride to benefit military veterans, first responders
10:43 a.m., April 8, 2016--On April 23-24, the Blue Hen Veterans and Friends Cycling Team will make a 110-mile bicycle journey from Washington, D.C., to Gettysburg, Pennsylvania, for the third year in a row.
The ride, known as the Face of America, is designed to increase public awareness of military veterans and first responders who have become disabled while in service to the nation and to raise money for adaptive sports programs. 
From graduates, faculty
As it neared time for the processional to open the University of Delaware Commencement ceremonies, graduating students and faculty members shared their feelings about what the event means to them.
Doctoral hooding
It was a day of triumph, cheers and collective relief as more than 160 students from 21 nations participated in the University of Delaware's Doctoral Hooding Convocation held Friday morning on The Green.
The 22-person team is made up of a mix of University of Delaware student veterans, alumni, ROTC cadets and supporters. 
The Face of America, run by World T.E.A.M. sports, includes both able-bodied and adaptive participants (those with disabilities) who ride together in a show of support and camaraderie.  Adaptive riders use a variety of equipment including recumbent bicycles, tandem bicycles and hand cycles, many of which are equipped with poles that can be used by able-bodied riders to assist them on hills.  
The members of the Blue Hen Veterans and Friends Cycling Team hope to raise a minimum of $10,000. Proceeds from the ride are used to cover all costs for adaptive riders and to fund other adaptive sports events run by the same organization.  These events empower individuals to move past their disabilities through athletic endeavor. 
To learn more about the Face of America including testimonials, click here. Those interested in supporting the Blue Hen Veterans and Friends Cycling Team ride may visit the team's donation page.
Student veterans or service members seeking support in their academic, social or personal success are welcome to visit this resource webpage or contact the Office of the Dean of Students for an appointment.
Article by Jennifer Barnes and Todd Glessner