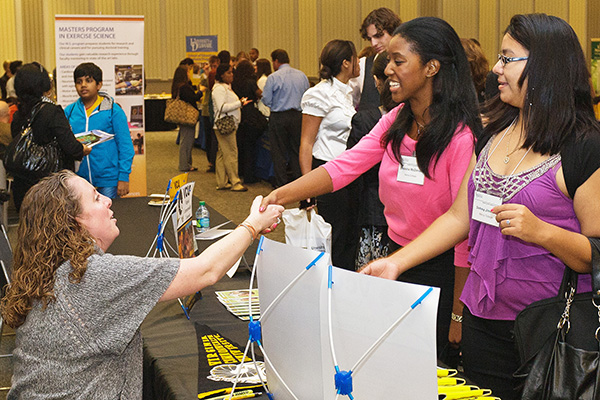 UD to host McNair events
National McNair conference, grad school fair offer opportunities for scholars
3:05 p.m., Sept. 3, 2014--The University of Delaware will host the 12th annual National McNair Scholars Research Conference and Graduate School Fair on Thursday, Oct. 9, at the Trabant University Center. 
"Our annual conference and graduate school fair is a great opportunity for current and prospective McNair Scholars, as well as members of the community at large who are interested in attending graduate school," said Kimberly Saunders, director of UD's McNair Scholars Program, the coordinating office for the event. 
Chronic wounds
UD's Millicent Sullivan and Kristi Kiick have received a $1.4 million grant from the National Institutes of Health for research that could provide a new approach to the treatment of chronic wounds.
Prof. Heck's legacy
The American Chemical Society is highlighting the legacy of the late Nobel laureate Richard Heck, the Willis F. Harrington Professor Emeritus of Chemistry at the University of Delaware with a digital tribute on its publications website.
The goal of the McNair Scholars Program, which is named for the late physicist and NASA astronaut Ronald E. McNair, is to prepare and encourage talented low-income and first-generation college students historically underrepresented in graduate school to expand their educational opportunities by enrolling in a doctoral degree program.
During the event, a new Prospective Graduate Student Visitation Day format will offer information and advice from faculty and students on the academic, social and financial aspects of graduate study, along with a UD campus tour. 
"We are excited to collaborate with the Office of Graduate and Professional Education in hosting a Prospective Graduate Student Visitation Day as part of the conference," Saunders said. "Student participants will gain an overview of the graduate admissions process, have lunch with UD faculty and graduate students, and take a campus tour before attending the graduate school fair and research poster competition."
Saunders said the McNair Office is busy receiving calls and emails from graduate schools and program recruiters from across the nation who are looking forward to meeting TRIO students, local community members, UD alumni and regional college students who will be attending the National Graduate School Fair.
Free and open to the public, the National Graduate School Fair will feature more than 80 graduate programs from across the United States, including programs from UD. Interested graduate school representatives may still register as an exhibitor on this webpage. 
The Research Poster Competition, open to all undergraduate and graduate students nationally, will award cash prizes to the top presenters.
Students wishing to enter the Research Poster Competition and/or participate in the Visitation Day events should review the conference website for more information about abstract submissions and registration. Abstract proposals are due by Sept. 19.
A full mini-conference schedule can be viewed here.