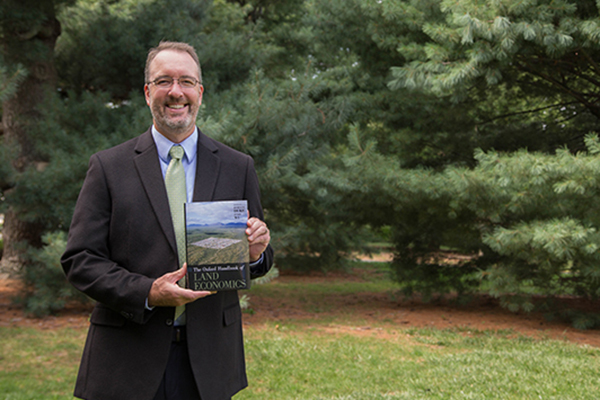 The economics of land use
New book by UD professor highlights latest work in land economics
11:42 a.m., Sept. 9, 2014--When Oxford University Press set out to publish a handbook in each field of economics, they selected the University of Delaware's Josh Duke to be a co-editor of the volume focused on land economics.
The work, titled The Oxford Handbook of Land Economics, was edited by Duke, professor in UD's Department of Applied Economics and Statistics (APEC), and Junjie Wu, the Emery N. Castle Endowed Chair in Resource and Rural Economics at Oregon State University, and joins 44 other economics handbooks currently available as part of the Oxford Handbooks in Economics series. 
'Resilience Engineering'
The University of Delaware's Nii Attoh-Okine recently published a new book with Cambridge University Press, "Resilience Engineering: Models and Analysis."
Reviresco June run
UD ROTC cadets will run from New York City to Miami this month to raise awareness about veterans' affairs.
Duke said that putting the book together was a five-year process, which started with a successful refereed editorial proposal and the recruitment of leading thinkers in the field to write the chapters. 
"Although the book is aimed at documenting state-of-the-art knowledge and research methods for academic economists and doctoral students, policy makers and others with basic economic training will find the results useful for improving land use policy and understanding how economists think about land use problems," said Duke. 
The book includes chapters featuring the latest research in different application areas, with many – such as ecosystem services and climate change – concerning the environment.
Land economics
As for what land economics entails, Duke explained that it is how humans make decisions about using natural resources and how society can adjust rules to improve the performance of land markets. 
"For instance, should a parcel be put to agricultural use, or should it be put to industrial use or commercial use? The problem with land markets, and land use decisions in general, is that they often have implications that affect people who are not the landowner," Duke said. "When I make a decision about how to maintain my house and manage my yard, it affects my neighbors — both positively and negatively. There are a lot of interdependencies associated with land use."
Duke pointed out that wars are fought over land and that people's wellbeing is tied to the land, noting the security that comes from land ownership. 
"To the owner, land is a special type of commodity and yet the way you use your land affects other people and vice versa," said Duke. "Every society, over centuries, has developed institutions, or rules, to manage land use decisions. In the U.S., you can't do whatever you want with your land, even if you're the owner. You can't convert a farm — in many jurisdictions — into a housing development without some form of governmental permission. There is a range of processes that society has decided upon for what ends land will be put to. Obviously, these processes can be very controversial, and this handbook provides economists' perspectives." 
Duke explained that economists study the performance of these institutions and make recommendations on new institutions, something with which the book deals. 
"In these chapters, the authors talk about how ecosystem services are produced from land and what kinds of policies are available to direct or incentivize land owners to enhance those services," he said. "For instance, how can society protect prime farmland from urban encroachment? How can society best adjust land management behavior to protect water quality? This is a small sample of topics addressed by the handbook."
Property rights and law also affect land use economics. "Several chapters address when land use regulation goes too far," said Duke. "Our society vigorously debates the conditions under which an environmental regulation unduly restricts landowner options, and when confiscating urban business is permissible using eminent domain. Economists contribute insight by assessing the efficiency of those laws that determine what is private property."
Top authors
The Oxford Handbook of Land Economics authors come from all over the world, representing institutions such as Ohio State University, Oregon State University, the University of Cambridge, and the University of California, Berkeley. International contributions come from researchers in Nigeria, South Korea and Italy. 
Kent Messer, the Unidel Howard Cosgrove Chair for the Environment in the Department of Applied Economics and Statistics, was one of the contributors. 
"The book features a lot of the best people in the field. It is a great group of contributors," said Duke. 
As for how he and his co-editor came to work on the book, Duke explained that Wu is "a leading thinker on land economics from Oregon State University who I've known for a while and this seemed like a great opportunity to collaborate, not just because I think he's an excellent scholar, but because he covers a lot of the urban economic models that I don't know as much about." 
Oxford Handbook
Oxford Handbooks offer authoritative and up-to-date surveys of original research, providing scholars and graduate students with compelling new perspectives on a wide range of subjects in the humanities, social sciences, and sciences.
The first Oxford Handbook in Economics was published in 2009. For more information on the series, visit the website. 
Article by Adam Thomas
Photo by Lindsay Yeager