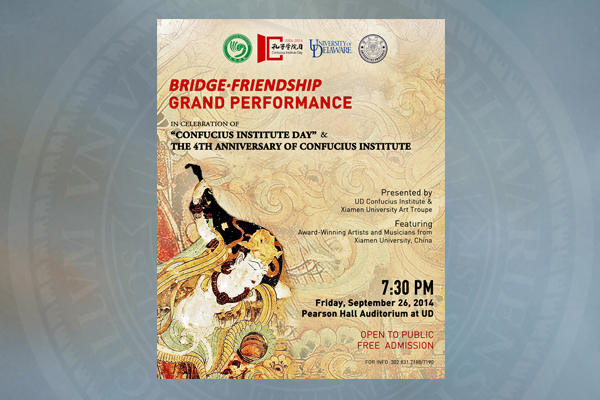 Sept. 26-27: Chinese culture celebrations
Confucius Institute Day celebrations feature music, culture fair
4:06 p.m., Sept. 17, 2014--In celebration of the fourth anniversary of the Confucius Institute at the University of Delaware (CIUD), a pair of special events will be held on campus on Friday and Saturday, Sept. 26-27.
CIUD will partner with the Xiamen University Performing Arts Troupe to jointly present a Bridge-Friendship Grand Performance at 7:30 p.m., Friday, Sept. 26, in the auditorium of Pearson Hall.
Fulbright awards
Three University of Delaware students and an alumna have received word this spring that they will travel abroad as part of the newest class of Fulbright Student Program award winners.
Peace Corps plans
Two University of Delaware students, John McCarron and Bridgette Spritz, have been selected as Peace Corps volunteers and will serve in Ghana and Rwanda.
The event, which is free and open to the public, will feature international and national award-winning instrumental artists and musicians from Xiamen University's renowned School of Arts.
There will be traditional Chinese instrumental music, folk songs and ethnic dances. Artists include professors Li Kunli, Hou Lina, Ye Feisheng, Li Xin and Hong Huizheng.
A daylong Chinese Culture Fair will be held from 10 a.m.-4 p.m., Saturday, Sept. 27, on the North Green.
Featured will be Peking opera, Chinese instruments, Chinese valligraphy and painting, Chinese tea ceremony, dough figurines, Chinese paper crafts, folk dances, and an opportunity to "learn Chinese in 15 minutes."
From 10-10:30 a.m., there will be performances by students from local schools including representatives from the Delaware Academy of Public Safety and Security, Archmere Academy, Ursuline Academy, Delaware Christian Academy, Lincoln University and the Osher Lifelong Learning Institute at the University of Delaware.
From 11:30 a.m.-3:30 p.m., there will be performances by Xiamen University artists. They will present Chinese folk dance, Chinese music, an erhu solo, Chinese songs and more.
From 1:30-1:50 p.m., there will be a Chinese costume fashion show, the "Dynasty Costumes of China," featuring costumes of the Han, Tang, and Qing dynasties, as well as Chinese ethnic clothing.
For information, call 302-831-7188 or 302-831-7190