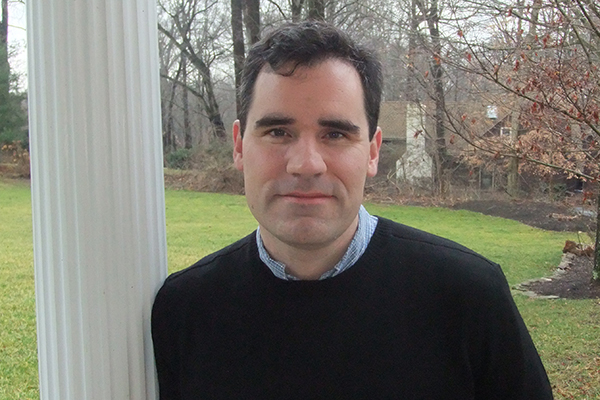 Disease-fighting molecules
Federal grant to support variety of biomedical research projects
11:41 a.m., Sept. 30, 2014--A five-year, $11.2 million federal grant will help University of Delaware scientists build a network of biomedical researchers in the region as they work to discover new ways to study cancer and other serious diseases.
The grant, from the National Institutes of Health's Centers of Biomedical Research Excellence (COBRE) program, supports seven junior faculty members working on five research projects, said Joseph M. Fox, professor of chemistry and biochemistry and the principal investigator for the grant. 
Chronic wounds
UD's Millicent Sullivan and Kristi Kiick have received a $1.4 million grant from the National Institutes of Health for research that could provide a new approach to the treatment of chronic wounds.
Prof. Heck's legacy
The American Chemical Society is highlighting the legacy of the late Nobel laureate Richard Heck, the Willis F. Harrington Professor Emeritus of Chemistry at the University of Delaware with a digital tribute on its publications website.
"These projects are tied together under the concept of 'molecular discovery to improve human health.' Through this center, we will be discovering new molecules that can be used to study, and ultimately to treat, human disease," Fox said.
An established researcher in the field of organic chemistry, Fox has developed molecular reactivity that is impacting chemistry, biology, nuclear medicine, cellular imaging and materials science.
Two of the five COBRE projects are focused on specific disorders, Crohn's and Huntington's diseases. Another is focused on developing a molecular library that will be screened broadly for drug lead identification, and two other projects are focused on developing underlying technologies that will accelerate the discovery process.
Because COBRE is designed not only to support specific research projects but also to help institutions build new research areas and develop regional collaborations, the UD scientists will be working with partners, including the National Cancer Institute (NCI) and the Nemours Center for Childhood Cancer Research. 
Fox said the medical research partnerships and the collaborative networks being developed are especially valuable in Delaware, where building such bridges is often difficult because the University and the state have no medical school. 
"With this COBRE program, we're not just focused on a niche area of research," he said. "We're building a broader center, one that's focused on discovery."
The proposal calls for "a rich collaboration" in which the University researchers will work closely with the NCI's Molecular Targets Laboratory and its Chemical Biology Laboratories. The interactions are expected to include mentoring by NCI scientists, cross-training for graduate students and follow-up work on promising discoveries.
In addition to the federal grant, UD is providing about $1 million to support new equipment and facilities, designed to build additional infrastructure for biomedical research at the University.
COBRE research projects 
The five diverse projects included in the grant seek to use novel approaches to discover new molecules, develop chemical probes and therapeutic leads, create new libraries for screening diseases and explore other aspects of immune responses and neurodegenerative diseases.
"The goal of our center will be focused on identifying new 'lead' molecules, which ultimately hold the key to new drug discoveries," Fox said.
The UD researchers involved in the COBRE projects, all assistant professors, are:
Catherine Leimkuhler Grimes, chemistry and biochemistry, whose research focuses on Crohn's disease, an inflammatory bowel disease. Based on its increasing incidence worldwide, Crohn's has been identified as an emerging global disease that, in the United States alone, may afflict as many as 700,000 people.
April Kloxin and David Colby, chemical and biomolecular engineering, are conducting research on Huntington's disease, a neurodegenerative genetic disorder that causes a progressive loss of muscle coordination and cognitive abilities.
Edward Lyman, physics and astronomy, is working to accelerate the identification of therapeutic agents for Parkinson's disease, targeting a specific signaling protein in the brain, called the A2A adenosine receptor. 
Joel Rosenthal, chemistry and biochemistry, will develop electrode microarray assemblies to help establish new ways to monitor protein binding. His research will also help define new protein targets for the development of therapeutics and will build new technologies to screen compounds rapidly.
Donald Watson and Mary Watson, chemistry and biochemistry, are synthetic organic chemists whose COBRE research projects will focus on building new scaffolds for identifying drug leads.
Article by Ann Manser