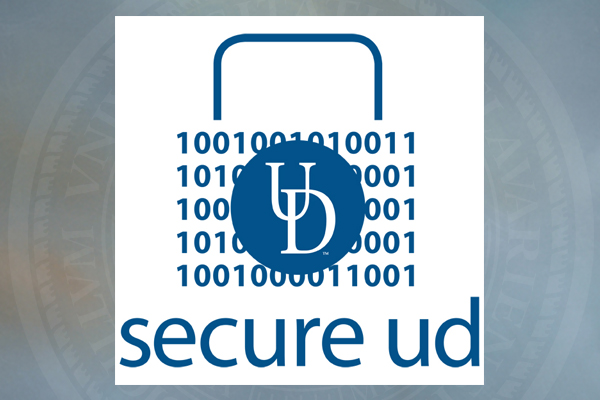 Renewing effort to Secure UD
Secure UD training relaunched during National Cyber Security Awareness Month
3:33 p.m., Oct. 8, 2014--As the University of Delaware settles into the fall semester, many members of the campus community are getting back into the habits of regular office and class computing. UD employees are handling grades, finances, and other sensitive information on a regular basis.
Current news is full of reports about data breaches and cyber exploits. Data theft is an enormous industry, and educational records are often judged the second most valuable kind of data hackers target. In addition, according to several published sources, every educational record exposed can cost a school between $100 and $294, and larger breaches can cost millions of dollars to control. 
June 6: UDid It! Picnic
All UD faculty and staff members are invited to attend the annual UDid It! employee appreciation picnic, set from 11 a.m.-1:30 p.m., Monday, June 6, on The Green.
2FA protects you
If you are using two-factor authentication (2FA), even if a hacker has your password, your information is probably safe.
In order to help faculty and staff protect not only educational records but also health care, employment and research records, the University of Delaware launched its Secure UD training program on June 16. Secure UD training consists of online modules that equip faculty and staff with the knowledge and resources they need to properly use and protect UD's data as they go about their workday.
During National Cyber Security Awareness Month, the University is renewing the drive for faculty and staff to complete Secure UD training. This initiative is part of UD's commitment to help employees understand their responsibility to safeguard University information resources in their day-to-day routines.
University Provost Domenico Grasso and Executive Vice President Scott Douglass have again jointly announced their support for the Secure UD training initiative: "Information security has only grown in importance since June, and we have to strengthen our commitment to protecting our data — your data — against attack."
Employees who work with sensitive or confidential information and have yet to complete Secure UD training and receive their certificates should finish the training as soon as they can. Secure UD training is a critical component of UD's information security program, and it depends upon employee participation and completion. Training is designed to help improve security knowledge and practices both in the workplace and at home.
Employees should also discuss their Secure UD training progress with their supervisors and consider making the training part of their employee evaluations.
Employees can log in and join the University in promoting a safer computer and information security culture.
Article by Alex Lindstrom
Graphic by Christian Derr