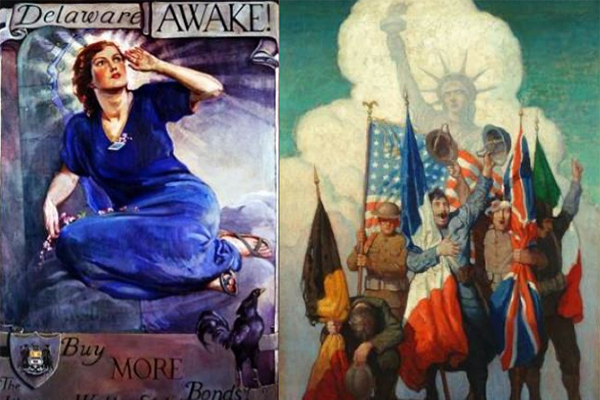 Nov. 1: 'The Great War'
Saturday Symposium explores multiple aspects of World War I
9:42 a.m., Oct. 10, 2014--The Saturday Symposium series at the University of Delaware will continue Nov. 1 with a daylong event exploring various aspects of World War I through talks, discussions and museum tours. 
"Remembering the Great War" will be held from 8:45 a.m. to 5 p.m., beginning in the Memorial Hall lobby on UD's Newark campus. Memorial Hall, which was dedicated in 1925 as a library building, memorializes Delaware's World War I dead.
June 5: Blue Hen 5K
University of Delaware graduates planning to attend Alumni Weekend are encouraged to register for the annual Blue Hen 5K walk and run, which will be held Sunday morning, June 5.
June 6-9: Food and culture series
The 20th annual June Lecture Series at the Osher Lifelong Learning Institute at UD in Wilmington will be held June 6-9. Titled 'June a la Carte,' this year's program focuses on great political documents, feminism, world politics and a Newark cuisine sampler.
Presentations throughout the day in Memorial Hall will include talks exploring the impact of "the war to end all wars" on literature, gender roles, the nature of modern warfare and the special role of the state of Delaware.
Attendees will walk to Morris Library to visit the exhibition "The Great War: Surprises from the Collection," in the Mark Samuels Lasner Collection. Later, they will tour "Delaware Awake! World War I at Home and Abroad," an exhibition in the Old College Gallery, which will be followed by a closing reception.
The symposium has been planned to mark 100 years since the start of the global conflict that had a profound impact on the shape of today's world. 
Registration, at $25, includes all the activities, a continental breakfast and lunch. For more information and to register, visit the website.
The symposium is supported by the Department of English, the University of Delaware Library, and the Mark Samuels Lasner Collection, on loan to the UD Library and University Museums.