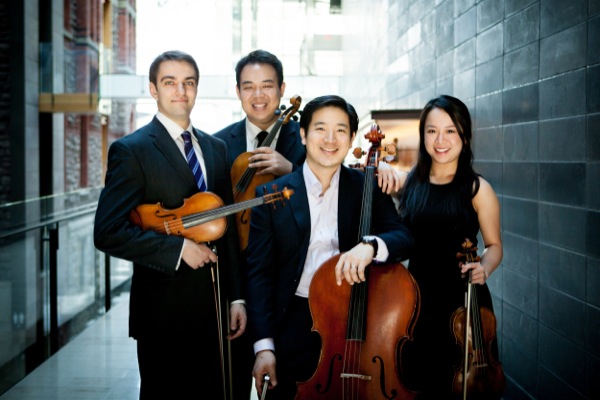 Oct. 24: Afiara Quartet to perform
Master Players to present internationally renowned Afiara String Quartet
9:59 a.m., Oct. 14, 2014--The University of Delaware Master Players Concert Series will continue its 2014-15 season with a performance by the Afiara Quartet, a world-class string quartet that has won almost every major international chamber music competition, at 8 p.m., Friday, Oct. 24, in the Gore Recital Hall of the Roselle Center for the Arts.
The quartet will perform String Quartet No. 2 in A Minor, Opus 13 by Mendelssohn, String Quartet in C major "Dissonance" K465 by Mozart and Langsamer Satz for String Quartet by Anton Webern.
June 5: Blue Hen 5K
University of Delaware graduates planning to attend Alumni Weekend are encouraged to register for the annual Blue Hen 5K walk and run, which will be held Sunday morning, June 5.
June 6-9: Food and culture series
The 20th annual June Lecture Series at the Osher Lifelong Learning Institute at UD in Wilmington will be held June 6-9. Titled 'June a la Carte,' this year's program focuses on great political documents, feminism, world politics and a Newark cuisine sampler.
Making its Master Players debut, the Afiara Quartet is widely noted for its engaging, authentic presence and performances balancing "intensity and commitment" with "frequent moments of tenderness," according to the Montreal Gazette.
To order advance tickets by mail, those who plan to attend can download the ticket order form. To order by phone, call 302-831-2204. 
Tickets for all events are $25 for adults; $20 for senior adults, alumni, faculty and staff; and $10 for students with ID. 
There are three discounted subscription series available: 
An eight-concert subscription is $152 for adults; $120 for senior adults, alumni, faculty and staff; and $56 for students; 
A six-concert subscription is $120 for adults, $96 for senior adults, alumni, faculty and staff; and $48 for students; and 
A four-concert subscription is $88 for adults, $72 for senior adults, alumni, faculty and staff; and $36 for students.
Starting this season, online purchasing for tickets and pre-paid parking vouchers is available to all Master Players audience members. For more information, visit the website.
About the Afiara Quartet
Winner of the 2008 Concert Artists Guild International Competition, the 2010 Young Canadian Musicians Award, top prizes at the Munich ARD International Music Competition and the Banff International String Quartet Competition, where they also took the Szekely Prize for best Beethoven interpretation, the Afiara Quartet has lively interest in new works and fresh insight into core classical repertoire.
As the Glenn Gould School Fellowship Quartet at Toronto's Royal Conservatory of Music, the quartet offers master classes, educational outreach and performances as part of their residency.
Throughout the 2013-14 season the quartet will perform at Ontario's Festival of the Sound and the Ottawa Chamber Music Festival, and venture to Newfoundland's Tuckamore Festival.
They will tour several cities in China, return to the ProMusica San Miguel de Allende in Mexico, perform in Santa Rosa and Fullerton, California and teach at Stanford University, and will be presented by Lincoln Center's Great Performers Series.
In recent seasons, the Afiara appeared at Carnegie Hall's Weill Recital Hall, London's Wigmore Hall, the Esterhazy Castle in Austria, the Chamber Music Society of Lincoln Center, the Baryshnikov Arts Centre in New York City, Chamber Music Cincinnati, the Washington Performing Arts Society, San Francisco Performances, Stanford Lively Arts, Cal Performances the Library of Congress and joined the Juilliard String Quartet in a performance of the Mendelssohn Octet at the Kennedy Center.
The Afiara has also made its Ravinia debut, participated in the Indiana University Summer Music Festival and Festival Domaine Forget, and made an extensive tour of Denmark and Sweden.
Enjoying a friendly mentorship with the Kronos Quartet, the Afiara offered affectionate tribute at the Kronos' June 2011 Avery Fisher Prize Presentation, playing Aleksandra Vrebalov's Pannonia Boundless. The Afiara have also performed the world premieres of Brett Abigana's String Quartet No. 2, Lockdown by Dan Becker, and Jason Bush's Visions in San Francisco, all written specifically for them.
In 2011, the Afiara Quartet completed a two-year tenure as graduate resident string quartet at the Juilliard School in New York, where they served as teaching assistants to the Juilliard String Quartet.
Prior to that, they were the Morrison Fellowship Quartet-in-Residence at San Francisco State University's International Center for the Arts (2007-09), where the members were teaching assistants to their mentor ensemble, the Alexander String Quartet.
The Afiara players have also worked with musicians and ensembles including the American, Cavani, Emerson, Kronos, St. Lawrence, Takacs and Ying Quartets, Earl Carlyss, James Dunham, Henk Guittart, Bonnie Hampton, and at the San Francisco Conservatory, where they were formed, with Paul Hersh, Mark Sokol and Ian Swensen.
Recognizing the vital importance of music education and advocacy, the Afiara Quartet pursues its own teaching work, in residencies at the University of Alberta, Edmonton, and as faculty at Chamber Music of the Rockies, Indiana University Summer String Academy and Canada's Southern Ontario Chamber Music Institute, among other institutions. They also provide educational outreach and make regular appearances at the Banff Centre.
Formed in 2006, the Afiara Quartet takes its name from the Spanish fiar, meaning "to trust," a basic element vital to the depth and joy of its music-making.
This program is made possible, in part, by a grant from the Delaware Division of the Arts, a state agency dedicated to nurturing and supporting the arts in Delaware, in partnership with the National Endowment for the Arts. Other sponsors include Vita Nova restaurant at the University of Delaware and Marriott's Courtyard Newark-University of Delaware campus hotel.