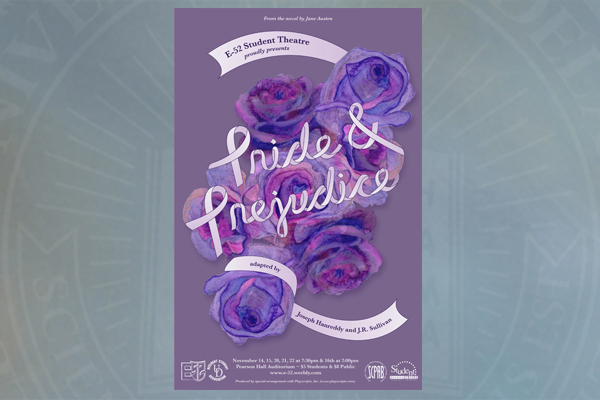 Nov. 14-22: 'Pride and Prejudice'
E-52 Student Theatre to stage 'Pride and Prejudice' at Pearson Hall
11:18 a.m., Oct. 31, 2014--E-52 Student Theatre at the University of Delaware will present its main-stage production of Pride and Prejudice, adapted for the stage by Joseph Hanreddy and J.R. Sullivan based on the novel by Jane Austen, from Nov. 14-22 in the Pearson Hall Auditorium.
There will be six performances, and show times are at 7:30 p.m., on Friday and Saturday, Nov. 14-15, and on Thursday through Saturday, Nov. 20-22, with a matinee at 2 p.m., Sunday, Nov. 16.
June 5: Blue Hen 5K
University of Delaware graduates planning to attend Alumni Weekend are encouraged to register for the annual Blue Hen 5K walk and run, which will be held Sunday morning, June 5.
June 6-9: Food and culture series
The 20th annual June Lecture Series at the Osher Lifelong Learning Institute at UD in Wilmington will be held June 6-9. Titled 'June a la Carte,' this year's program focuses on great political documents, feminism, world politics and a Newark cuisine sampler.
Tickets will be sold at the door and cost $5 for UD students and $8 for the general public. FLEX will be accepted.
The talented cast of 21 undergraduate students has gone through a detailed rehearsal process this semester, including 19th century dramaturgy, British accent workshops, dance rehearsals, and character development discussions. 
Moreover, the production would not be possible without the incredible work from the production's staff in presenting time period visuals, said Matthew Dec, the director of Pride and Prejudice.
"This show is a unique creative experience for us because it approaches story telling to college students from a different angle," Dec said. "It takes a lot of mind power to meet the needs of the famed source material, while allowing the cast and the designers to make their own artistic choices on how these complex characters and visuals are to be interpreted, while still keeping my overall vision of the show intact – but that is what makes theatre interesting."
Dec is a senior mass communication major who has a strong interest to pursue a career in the entertainment industry. He has been with E-52 for over three years and now serves as president of the organization. 
This will be his third production that he has directed for the group, following his directorial work on A Streetcar Named Desire in fall 2013 and Our Pop Culture in fall 2012. 
In association with the production, E-52 is sponsoring an If/Then raffle. At any of the six performance dates, anyone may enter into the raffle to win a pair of free tickets to Broadway's newest musical, If/Then, starring Idina Menzel, for any performance date between Jan. 1, 2015 and April 1, 2015, in New York City. There is no limited number of ticket entries per person. Raffle tickets cost $1 and all proceeds will be donated directly to E-52. 
Raffle tickets can also be purchased in person at the following events:
SCPAB and E-52's film screening of Pride and Prejudice: Wednesday, Nov. 5, at 7:30 p.m., in the Trabant University Center Theatre with free admission. The film screening is of the critically-acclaimed four-time Academy Award nominated film of Pride and Prejudice (2005), starring Keira Knightley and Matthew Macfadeyn and directed by Joe Wright. Right before the screening starts, those who attend can also meet cast members from E-52's stage production. They will perform a short scene from the show for the first time in front of an audience, as well as briefly compare story telling between film and live theatre. 
Pride and Prejudice publicity meet and greets: Kiosk B in the Trabant University Center Food Court on Nov. 12, 13 and 19, from 12:30-2:30 p.m. Meet members of the cast and crew handing out show advertisements.
Additionally, every student ticket purchased to see E-52's production of Pride and Prejudice comes with one free If/Then raffle ticket.
E-52 is registered student organization that traces its roots back to the E-52 drama course in the English department in 1923. Throughout its history, the organization has produced over 350 productions, Dec said, but rarely has it had the chance to present a British literary classic live on stage, so members "are thrilled to showcase their talent and share this once-in-a-lifetime opportunity with the University community."
Pride and Prejudice is co-sponsored by the Student Centers Programming Advisory Board and the Resident Student Association.
As Marcia McClintock Folsom puts the story's lesson best in Approaches to Teaching Austen's Pride and Prejudice, "A person who is willing to undertake the struggle can come to know what is true. This is highly appropriate to extend to college students, whose cognitive struggle is to become intellectually flexible, aware of their own interpretive modes and prejudices, and willing to admit new information into their thinking so they can mature as thinkers and responsible adults."
For more information, visit www.e-52.weebly.com. #UDPrideandPrejudice